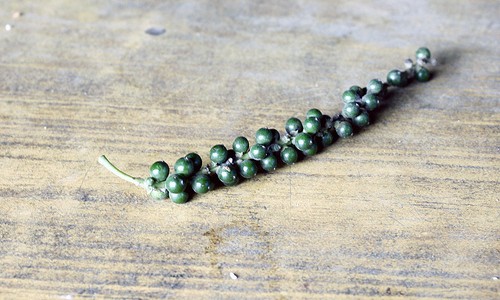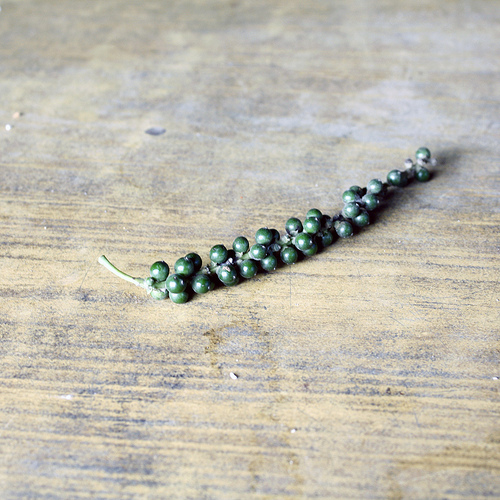 Most people, when they think of Cambodia, think of the Genocide and Pol Pot and the awful years of deprivation that Cambodia only recently (say, three decades ago) emerged from. But having spent a month in Cambodia, I can tell you that there is much much more to the country than the Genocide.
There are the people, who despite their bitter future and their shady present (corruption is rife in Cambodia) are friendly and surprisingly open to strangers. There is the sense of each day being part of history in the making as the country pulls itself back onto its feet. And there is the pepper. Pepper might not sound like such a big thing, but it's the first thing that springs to mind when I think of Cambodia, and for the taste of pepper to have superseded the images of the War Museum and the Killing Fields it has to be quite extraordinary.
Cambodian pepper is not just any pepper. It's green, for starters, and it's served in long strings of peppercorns that pepper (excuse the pun) every dish, from chicken to fish, beef to prawns and, most notably, crab. But only in Kep, an almost-border town by the sea that hasn't got too much to offer (a 1km beach, some fancy hotels) apart from the crab. But the crab is deeelicious. And combined with the spectacular pink and purple sunsets over the sea, it's enough to lodge Kep as a must-visit place in my mind.
The best food we had was, of course, not from any swanky restaurant but from a seaside shack on the edge of the beach. The crab was served hot and swimming in a buttery, lime-infused pepper sauce. I mean, swimming. Long strings of green peppercorns that burst against your teeth as you crunch them and fill your mouth with flavour. Incredible stuff.
Of course, as with all travel tales, this one has a slightly-less-than-happy ending. The day after eating this extraordinary crab, the crab that has lodged itself in my brain as the best I will ever eat, and coincidentally our last day in Cambodia, we had to decide where to eat. The seaside shack was a ten minute walk away, and there was a small place run by an over-eager young guy a two minute walk away. We decided to support small business (foolish foolish foolish) and I ordered my regular – pepper prawns – as a last goodbye to Cambodian cuisine. I have never eaten so many giant platefuls of prawns as I have in Cambodia. The plate arrived and it was, indeed, piled high with prawns. But every one tasted like chicken. It must have been cooked with someone else's chicken dinner. Worse than that, though, was the fact that there wasn't a single peppercorn on the plate.  A travesty!
Photo: Emli Bendixen

for the best flight deals to Phnom Penh or anywhere else!