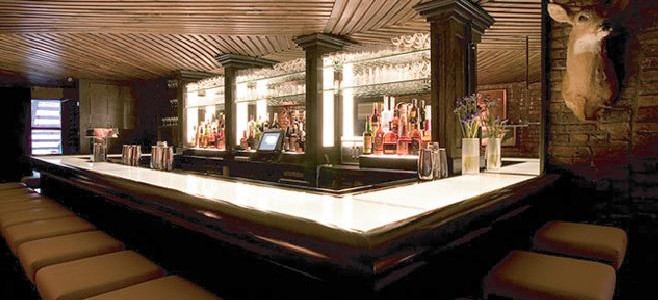 Travelers to New York City have their pick of good bars, from dimly-lit dives to sophisticated sites, serving everything from cheap beers and shots to rare wines and pricey cocktails.  But even the veteran New York visitor is likely to pass by PDT, the renowned cocktail bar hiding inside Crif Dogs, an East Village hot dog spot.
PDT, which stands for Please Don't Tell, can be accessed via a phone booth inside Crif Dogs, lending the bar a speakeasy vibe straight from the years of American Prohibition.  Once inside the booth, simply pick up the phone and press a button.  A source on the other side will buzz you in to the small, low-ceilinged space–complete with exposed brick walls adorned with assorted animal heads–that fits about 40 customers.
Patrons of PDT can enjoy expertly crafted classic cocktails and innovative seasonal drinks, including an Old Fashioned featuring bacon-infused bourbon and maple syrup and the White Birch Fizz, composed of gin, apricot liqueur and egg white.  The published menu of cocktails is augmented by the knowledgeable bartenders, who can mix up a seemingly unlimited number of drinks.  Leading the bar crew is Jim Meehan, who honed his bar skills at Grammercy Tavern and Pegu Club, two good New York cocktail bars in their own right.
To soak up some of those cocktails, PDT offers food from neighboring Crif Dogs.  The assorted hot dogs and sides, including cheese fries and tater tots, are an unusual pairing to craft cocktails, but it's a combination that works – the inexpensive comfort food is a pleasant companion to the $14 drinks.
To find awesome flights to New York go here.