Polokwane, in the Limpopo Province, is not a small town, it is not yet a city, it is somewhere in between. Having lived in Polokwane myself (when it was still Pietersburg) I can tell you that it does have a nightlife scene and boasts many attractions in and around the city.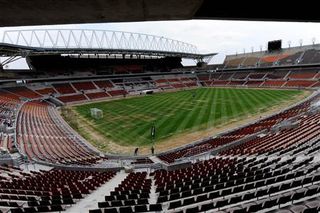 Photo by: Shine 2010
–
Peter Mokaba Stadium

Sights & Attractions:
Concentration Camp Cemetery – graves of the Anglo-Boer War concentration camp victims.
Polokwane Museum – that details the history of this city.
Hugh Exton Photographic Museum – for a journey in time.
Meropa Casino – for those with Lady Luck on their side.
Polokwane Game Reserve – for what Africa is famous for. Also visit the Polokwane Info site.
Chuene Crocodile Farm – for critters to scare little children.
Bakone Malapa Northern Sotho Open-Air Museum – for a little bit of local culture.
For more attractions, click here.
Shoppi.jpgng in this wonderfully colorful city can be done at Savannah Mall or in town. You will find the usual clothing, restaurants, gifts, etc shops in either area.