Many girls had dressed as their favorite character so it almost looked like the real thing on the steps o"f the Met."
On Monday the first epi.jpgsode of the season of the popular tv show Gossip Girl was broadcasted on American tv. Gossip Girl doesn't have exactly the same audience as even more popular Sex and the City but the two shows has one thing in common – they are shot on location on the streets of New York City.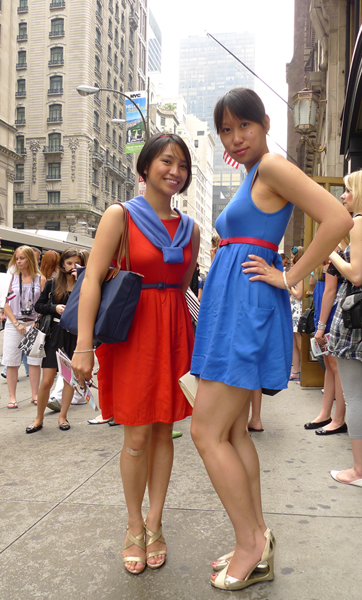 "Sex and the City Hotspots" is one of the bus tours you can go on and earlier this year the same company, On Location Tours, also started a Gossip Girl tour that I joined a little while ago. Since it was a special occasion that day many of the guests had dressed up as their favorite character on the show. As we went between different fancy Upper East Side locations and went out to have a look at where the many school scenes are shot and where the girls, or the ones that count anyway, always eat their lunch yoghurt on the steps of the Metropolitan Museum, it was easy to feel part of that elegant New York life.
The event ended further downtown around SoHo and Lower East Side where I feel more at home, but a tour like this really is a pretty good way to get your bearings around Manhattan, as well as seeing the locations of your favorite show of course. If Gossip Girl or Sex and the City is not your thing, than maybe the Jersey tour following the Sopranos would suit better. Or you could always just join the general tour of where great cinematic moments through time took place.
To find awesome flights to New York go here.