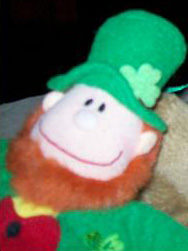 What do you think of when thinking of Ireland and the Irish people? Leprechauns, clovers, luck, Kilkenny, Guiness – right?
Get Leprechauns! You get them in all sizes, from key ring sized to large dolls. I have two… and they are just adorable with their little green outfits with an embroidered clover on. Get a shirt that says 'The Leprechauns made me do it!' or 'I see green people'.
Get a 'Solvar' (silver) clover charm or a pair of brightly coloured green socks with clovers on! I bought two pairs… bit bright, but I LOVE wearing it!
Get a Gladdagh! This is an Irish symbol with two hands holding a heart. I bought an ankle chain with it.
Buy Guiness bread mix in a tin, 'stokies', keyrings, shirts or chocolate.
Get some Irish lace! You can get from small pi.jpgeces, coasters to table cloths. This is made in Cork somewhere.
Woolen products – from jerseys to gloves. I settled on buying a bear with a green jersey that had embroidery on that says 'I clover U'. How much more Irish could it be?
I made most of my purchase decisions based on weight and size. I would have loved to bring home a life sized Leprechaun, but where would I pack it?
PS. Look at the labels of any toys or clothing you buy, if it is made in Ireland, it is good quality. I found a lot of 'Fruits of the Loom' shirts in other countries that they printed on with their symbols.