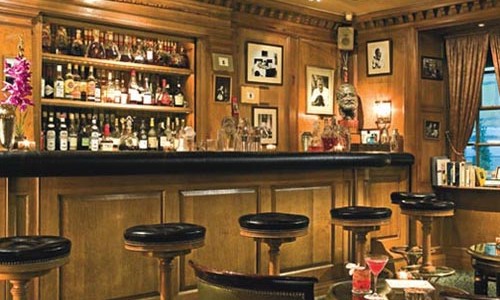 Travelers in Paris wanting a stiff drink can step inside the renowned Ritz Hotel to experience expertly-crafted cocktails and a piece of literary history.  The Bar Hemingway is a small, upscale bar dedicated to the life and legend of Ernest Hemingway, complete with photographs and memorabilia commemorating Hemingway's time in Paris.
The bar is run by Colin Field, generally considered one of the best barmen in the business, and a staff of well-dressed, courteous servers. Field was even dubbed the World's Greatest Bartender by Forbes magazine.  Aside from his encyclopedia knowledge of classic cocktails, Field makes his own infusions, syrups and cordials, which he utilizes in his own innovate creations.
The bar caters to a pack of wealthy tourists, businessmen, diplomats and the beautiful crowd, and Field is equally at ease making conversation with each. He stays up to date on current events, sports, the stock market and more to provide running dialogue to interested guests. And he can do so in a variety of languages.
Keeping with the chic scene, The Bar Hemingway is one of the most expensive bars in the world. Cocktails typically run for 30 Euros, and the bar serves one of the world's most costly drinks – the Ritz Sidecar, which clocks in at a staggering 700 Euros.  Composed of cognac, Cointreau and fresh lemon juice, what sets the Ritz Sidecar apart from other Sidecars is that its cognac comes from grapes harvested prior to a devastating grapevine infestation that occurred in the 1860s.  It is said that wine and cognac produced before the destruction were better than anything produced since.
Even if you can't afford a Ritz Sidecar—or any drinks at the Bar Hemingway—it's still worth taking a look inside the famed bar.  Adorning the walls are 25 original photos taken by Ernest Hemingway, giving the visiting drinker an inside look into Hemingway's world as an American expatriate in Paris.