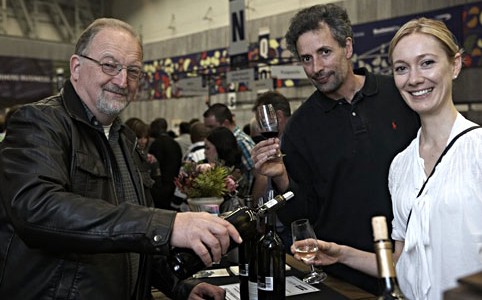 For Jo'burg wine lovers, WineX, or RMB WineX Festival, Sandton as it's officially known, is a much anticipated event.
Over 3 days, from Wednesday 27 to Friday 29 October 2010, Jozi wine fans crowd the Sandton Convention Centre – Pavilion, to sip their way through around 1500 wines during this popular Jo'burg wine show.
Having 200 South African wine estates and distributors under one roof is an opportunity not to be missed, but tasting fatigue is a real problem.
A 2-day pass to WineX, for the Wednesday and Thursday night, will save you having to taste too many wines in 1 night, and give you an opportunity to meet some of the winemakers before the hordes descend on the Friday night. Alternately, visit the WineX website, check out who's on show,  and create your own cultivar or producer specific wine route for the night.
Buy your tickets ahead of time, and pre-register online for Shop@Show to avoid long queues. If you're not a disciplined wine taster, book a corporate cab service though the show organisers, or arrange a taxi pick-up after the show. Driving tipsy vs. an encounter with Jozi Metro traffic police officers is a no-brainer, and not recommended.
Early attendance at the RMB WineX Festival in Sandton also means there will still be award-winning wines up for grabs at cellar door prices, bearing in mind you can't take your purchases with you. A flat surcharge is levied for all wine deliveries in Jo'burg, or your purchases can be couriered worldwide.
At this Jo'burg wine show, nibble on olives, chocolate, nougat, and check out all sorts of gadgets from glasses to coolers (home storage) and wine racks to enhance your wine experience. Don't forget to vote for your favourite wine on show to be eligible to win red or white wines as voted for by Jozi vinophiles.
Tickets for WineX cost R90 if purchased before 24 October, and include a complimentary wine tasting glass and unlimited tastings. Thereafter, and at the door: R100 for Wednesday and Thursday; R120 for Friday. Two-night ticket pass for Wednesday and Thursday nights, if booked by 24 October costs R160. Book at Computicket.
Whether you're an avid collector, or a wine prat that reckons they could teach Jancis Robinson a thing or two, WineX, Jo'burg's favourite wine festival, with its fantastic selection of wines and endless people watching opportunities, will have you raising your glass to a night out in Jozi. Cheers!