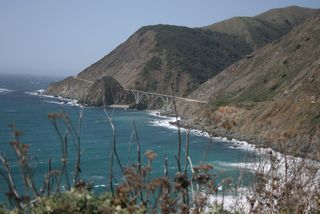 (photo courtesy of
Maggiejumps
)
Road trips are an endlessly popular way of travelling throughout North America. The road trip with friends or family is often the best way to see America, due to its vastness. 
One of the greatest road trips in the U.S. is the
California and Oregon coast trip
, over 1,200 kilometres of rugged Pacific Ocean coastline. 
I've done this trip twice in my lifetime, from Portland Oregon all the way south to San Diego California, taking about 16-20 hours of driving and a few days if you go at a leisurly pace. 
A great way to do this road trip is to fly into the
Portland
airport, rent a car, and head out to the west coast town of
Cannon Beach
, a great starting point of the trip. (You may have heard of Portland before, as it's where the company Nike was founded 1972.)  
The coastal road trip from Cannon Beach to San Francisco is close to 1,100 kilometres of rugged and spectacularily beautiful coastline. There are probably 30 towns along the way that are worth visiting, including Newport, Florence, Sunset Bay and Coos Bay in Oregon, and then the Lost Coast, Fort Bragg, Bodega Bay, before heading south towards the Golden Gate Bridge at San Francisco, California. 
From San Francisco, many will choose to continue south along the coast further, visiting places like Santa Barbara, Los Angeles and San Diego, and some will choose to do a return inland loop, possibly going to Las Vegas along the way. 
This coastal route is arguably one of the most popular road trips in all of America. The west coast sunsets will blow you away! You will not be alone on your travels, and there are countless accommodations along the way.