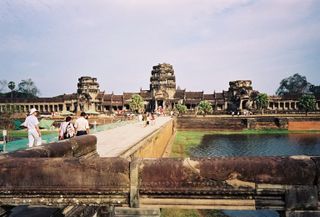 Of all the places I have been fortunate enough to have traveled, few have blown me away like the ancient ruins of
Angkor
in Cambodia.
Located just outside the city of Siem Reap, the ruins of Angkor, which date back to the 12th century, offer close to 40 archaeological sights to explore.
The Angkor Wat temple (right) is the most celebrated of the sites, built between 1113 and 1150. Any visitor to the temple must be perplexed by how many people it must have taken to built this site, in less than 40 years, in the pre-industrial era.
Some visitors explore the Unesco World Heritage site for a day or two, and some choose a week or two. When I was there in 2004, I spent 4 complete days exploring as much as I possibly could. The best way to get around was definitely by motorbike with a local guide, as the sites have too many kilometres between them, and the sun is too scorching, to see it properly on bicycle. I could have still used an additional day or two for certain, but hopefully, I will get the opportunity to return one day in the future.
My favorite of the many temples and tombs I visited were Bayon (left), Angkor Wat, Banteay Srei, and Ta Prohm, although it really is hard to choose favorites. Each are remarkable in various ways.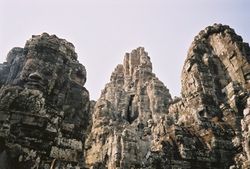 It's believed that Angkor, at one time, was the largest pre-industrialized city in the world, with an urban area of close to 3000 square kilometres, and population estimates that reach one million.
Angkor is one of the most remarkable places I have ever seen – it largely influenced my present day addiction to travel.