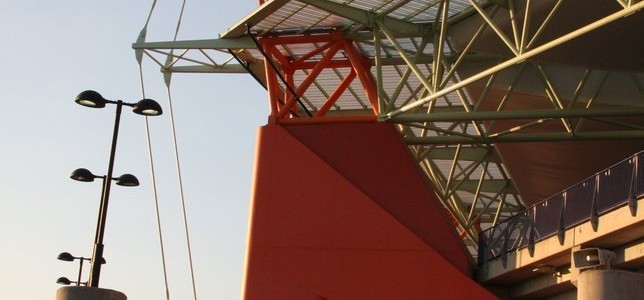 Probably one of the most surprising stadiums we visited was the Mbombela Stadium in Nelspruit. This stadium takes what stadiums are supposed to be all about and turns it on it's head sort-of. There is little normal about this venue, except for the existence of a pitch, seats and change-rooms.
The arena is set just outside of Nelspruit with veld all around, the rolling wild and bushy hills of Mpumalanga make a fitting backdrop for this football stadium with it's wildlife theme. This theme is most evident by the seats inside which have been designed to look like the stripes of a Zebra, it's quite effective and gives the stadium an immediately fresh and new feel. The other wildlife depicted in the stadium's design takes a slight bit more careful insight, you will notice that all the column supports of the stadiums are capped with odd-looking metal structures which when seen from a distance becomes clear that the whole structures represent giraffes with their sloping backs holding the stands. Check out our Flickr photos for some pics of that.
Inside the back ends of the stadium, you are dazzled again, not by clever design this time but by some of the very bold and African colours. This venue completely flies in the face of convensional black and white stadium decor, everything inside is rich in colour from bright reds to electric greens, blues and yellows.
The change rooms also are very plush and put some of the bigger stadiums to shame with their modern and well-equipped decor and fittings. They too have lovely jacuzzi baths for the players to relax in afterwards.
One thing that Mbombela got a bad wrap for was it's disasterous pitch – rumours abounded that it was very late and no pitch was in place. The truth is that they had a number of pitch problems due to various types of grass not taking root properly and dying, they tried 3 different types of grass and ripped up the pitch over and over again to get the perfect turf, eventually a rich rye grass was what was decided on and I must say it's looking pretty good. You will notice white sheets on the pitch photos, these are little incubators for the seedlings needing the most care, they are carefully tended to and looked after under these blankets to ensure they are perfect by the time the games start.
This is a great little stadium, I really look forward to seeing the players and fans alike enjoying it's great facilities!