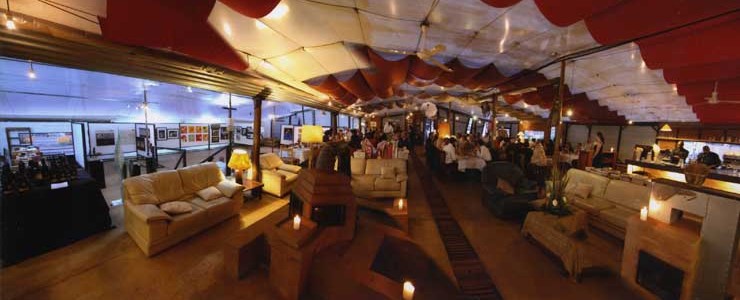 Our next stop was Pretoria, home to the Union Buildings, UNISA, and a lot of very up-market venues and entertainment. Pretoria was something this road-tripper was very surprised by.
We stayed in the upmarket and leafy eastern suburb of Waterkloof Ridge in an old almost A-frame guest-house called Kambro run by a fastidious lady called Annemarie. We got our own apartment with kitchenette and the most delicious breakfasts each morning.
Our mall day in Pretoria was to be spent at The Grove Shopping Centre, a brand new mall with upmarket shops and a very open and fresh feel with its open-air restaurant court. This mall may have been a little too upmarket, not many seemed interested our free soccer balls and discount vouchers, at least everyone had a good listen and got to know a lot more about what we are about.
In the evening I made a special effort to go out for some dinner and got a local friend of mine to show me the best spots in Pretoria. He suggested we go to a place called Karoo Cafe in The Willows. This is a place I can definitely recommend! Made to look a little like a big corrugated iron shack, it is decorated with quintessential Karoo cottage furniture – comfy couches, fireplaces and bookshelves filled with piles of classic old books – the dining tables are interspersed throughout. The reading lounge theme is further continued with the menus which have been laminated into the pages of these old books, it makes for a very unique touch. I made sure to have some traditional Karoo lamb potjie and cracked open a bottle of Muratie Merlot which went very well with the food. This is a restaurant not to miss when visiting Pretoria.
Next up, we make our way down to our other capital, Bloemfontein!