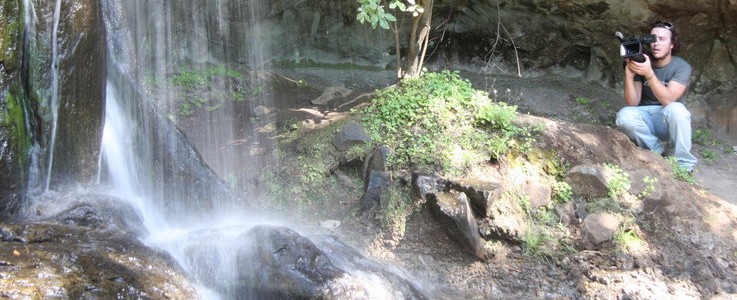 Waking up to the view we had at Champagne Castle is somewhat of a Drakensberg holiday treat, our thatched cottage looked over a placid trout-stocked damn which reflects the myriad of mountain crags and peaks as they catch the morning rays of sunshine. This is the perfect spot to have a cup of coffee and munch on some breakfast.
Later in the morning it was time to get out of the comfort of the self-catering cottage to make our way up the mountainside through pine and gum plantations and on to the indigenous forests towards some alluring sites known poetically as Crystal Falls and Robin Hood's Grove. The path climbs up the side of the valley through thick grassland and all along the way there are little gorges and crags filled with thick natural yellow-wood forests. We took some time to explore one or two of the forest paths and let Brad, our video cameraman have a shower in the ice-cold waterfall at Crystal Falls.
Once back in the comfort of our thatched cottage again, we decided it was time to set a fire in the fireplace – not that one truly needs it as the house is fitted with very effective under-floor heating, but for authenticity's sake, nothing beats a wood fire on a cold evening! Once our fire was under way, we set about braaing on the outside gas-weber. After some struggling to work out how to use this piece of technology, we were under way – a glass of wine in hand, some sosaties and wors on the "fire" and a packet of Woolies pizza-twirls in a bowl – we were set for a great evening.
The accommodations in the self-catering cottages are really something amazing, the kitchen is fully-fitted with pretty much everything you need, staff members servivc the rooms daily, clean out your "braai" and stock your fireplace with wood when you arrive. Our chalet had three bedrooms and two bathrooms and would make for an excellent place for a family to stay. All the chalets face the mountainside and not one of them looks into the front of another providing a feeling of seclusion – this would make excellent accommodation for honeymooning couples.
And speaking of romance and matrimony, the hotel has a stunning little chapel set in the middle of paddock, it's frontage is all glass and faces the mountain peaks head-on, it would be hard not to say "I do" in a setting like this. It was around this chapel that we woke to find a herd of the most beautiful horses which the hotel keeps for those wanting to do a horse-back "hike". This made for a very difficult setting to leave, knowing that we had to head for Johannesburg in the morning.
[boilerplate bytitle=Standard]