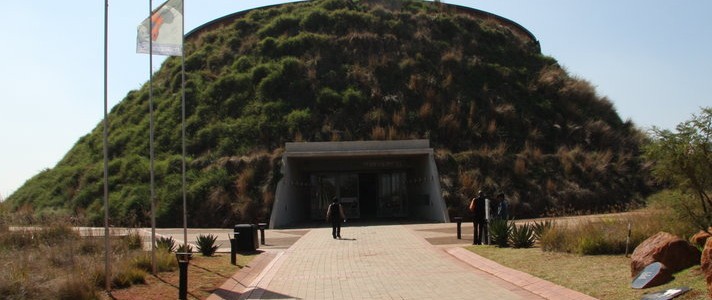 This has to have been one of the most exciting and intriguing sites in South Africa, the cradle of human kind. Our first visit was off to the Sterkfontein caves, this is such an amazing site with so much to see. Our guide explained the formation of the caves to us and how they look from the outside – as mere dips filled with trees and shrubs. This caused animals and early humans to venture in to find food and they would fall through the cave roof and be trapped below where they would usually die of starvation.
As gruesome as this is, it has left us with some pretty incredible fossils which have taught the world a lot about the early origins of mankind. Some of the most important fossils ever have been found in and around these caves, fossils like the famous Mrs Ples and others which point to various previously missing links in our evolution.
Even if science and history is not your thing, it's a great cave to explore with a number of little passages jutting off to the side. What also makes it very unique cave is the massive underground lake it enters into which stretches 100kms to Carltonville. Diving is no longer allowed in the lake as a diver became lost here in the 80's and died from starvation and was only found 5 weeks later in the pitch black only a few meters from the main cave.
From the cave we went on to the Maropeng Visitors Centre. This great exhibit is a scream both for adults and kids alike. It begins with a water-ride through the 4 elements used to create our planet – as believed by the ancients – earth, wind, water & fire. Then the interactive museum starts where one can learn about the fate of many of the various creatures on our planet, or learn about the concepts of evolution and the way humans run our planet. It's a very eye-opening and fun exhibit which is hugely engaging – oh and you get to see some really neat original fossils in the one exhibit!
Check out our pics on Flickr.