This is the second installment in a 3-part feature on some of SA's beautiful botanical gardens. Sit back, read this and come springtime -be ready to get outdoors and have some fun in the sun. We have some truly glorious gardens in South Africa, ones that celebrate the diversity and beauty of our own flora.
Kirstenbosch National Botanical Garden
Located: Rhodes Drive, Newlands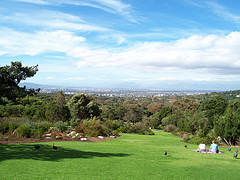 Kirstenbosch Gardens is regarded as the crown jewels of SA's natural habitats, and it is no wonder then that it is ranked amongst the top seven botanical gardens in the world. Nestling below the famous Table Mountain against the majestic backdrop of Castle Rock, the Garden has one of the most spectacular locations for a botanical gardens in an urban setting.
Home to am amazing 5,000 species of South African plants, the Gardens has many interesting attractions to look forward to. From the remnants of a hedge planted by Jan Van Riebeeck in 1660 to the giant baobab tree under the hi-tech roofline of the Botanical Society Conservatory.
Guided tours are available of this famous Garden, which are led by volunteer guides, and you are welcome to hire out a minicar for more leisurely strolls around the massive expanse of the Gardens.
Be sure to check the bulletin boards at the entrance to the Gardens as outdoor music concerts, theatre performances, sculptre and art exhibitions as well as craft markets are held throughout the year.
Harold Porter National Botanical Garden
Located: Clarence Drive, Betty's Bay
This beautiful secluded garden is set between mountain and sea, in the heart of the famous and popular Cape fynbos region. It comprises ten hectares of cultivated fynbos garden and 190 heactres of pristine natural fynbos.
The Garden encompasses mountain slopes and deep gorges with relict forests, flats and marshes, as well as dunes adjacent to the beach with their specialised salt adapted plants.
There are approximately 88 species of brids, including the Orange Breasted Sunbird and the rare Protea Canary. Wildlife that can be spotted in the area range from mongooses and porcupi.jpgnes to genets.
The Garden is home to several kilometres of nature trails, which provide scenic views of mountains and coastline.
For more information on these gardens, explore this website: www.sanbi.org.
Image credit to Randy OHC