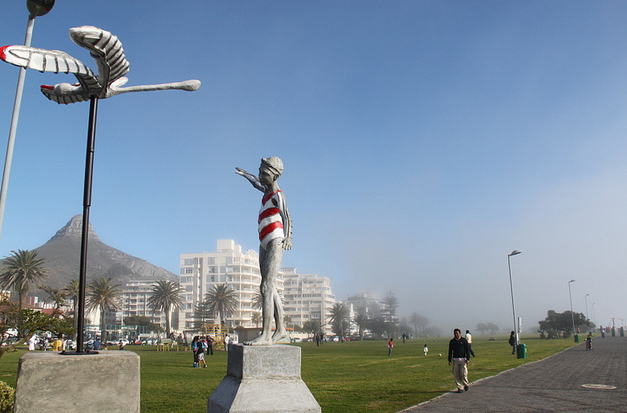 If there's one spot that will give you a cross section of The People of Cape Town, it's the Sea Point Promenade. A wonderfully wide and winding path that runs alongside the (sometimes wild, sometimes peaceful, always beautiful) ocean, the Sea Point Promenade (or the Prom, as it is affectionately known) is as Cape Town as it gets.
From the young hot mommies who jog behind their strollers in matching velour tracksuits to the old grannies and grandpas who shuffle along holding hands and taking deep lungfuls of fresh sea air; from the working masses who power walk or jog after work each day to the kids who skate, ride, or rollerblade at great speed; from the dog-owners who are dragged after their active dogs to those who drag their lazy dogs along; from the couch potatoes who are trying to get fit to the workers catching a quick nap in the shade of the trees; from the tourists gasping at the incredible ocean views to the drug dealers trying to look inconspicuous – this is the best place in Cape Town to people watch.
It is also, funnily enough, the best place in Cape Town to exercise. The Prom winds its way around from the Sea Point lighthouse (a traditional red and white striped number), past the kiddies choo choo train and the putt-putt course, past a number of play sets, swings, see-saws and open patches of grass, past impromptu soccer and cricket pitches and the communal Sea Point swimming pools, to the wilder side where the sea is less tamed and more violent. There is something so satisfying about walking or running along a path that follows the ocean – a beautiful view at every turn instead of staring at the inside of a gym. And if ocean views don't do it for you, you can look the other way,  at some really lovely old hotels and building facades set in front of some pretty spectacular mountain views. Or study the beautiful statues that line the Prom. Its win-win-win.
And then, of course, there's the Cape Town Soccer Stadium – a mere few minutes walk from the lighthouse end of the promenade and a beauty to behold from a distance or right up close. The Greenpoint Stadium has breathed new life into its Sea Point neighbour, life that one hopes will continue when 2010 ticks over into 2011… During the World Cup, people walked all over the city, along the fan mile, across town, further than many Capetonians had ever walked before, all for the love of the game.
Now that the games are over, shouldn't we keep that spirit of walking into our love for South Africa alive? I'll see you on the Prom.
Photo: Andre-Pierre