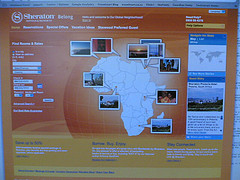 Sheraton 'Belong' – I don't think so.
Originally uploaded by Dplanet::.
As with most corporate forays into social software, the Sheraton's new 'Belong' web site is nothing more than a superficial nod towards community mappi.jpgng.
Community mappi.jpgng (or 'social mappi.jpgng') is a way of getting users to map and define real world places online. The idea is to build a directory of locations that other users can discover and add to. This can be achieved through a variety of tools such as GoogleMaps, tagging (or 'geotagging'), book marking, wikis and commenting.
One of the reasons the online travel industry is interested in community mappi.jpgng is the desire to engage with, and develop online communities around travel brands with the aim of seamlessly promoting their products or services. Another reason is because many people believe that localised search will become a large segment within search advertising.
Of course that's not what the marketing people high on 'web 2.0′ buzz say. It's all about 'empowering' users, 'sharing information' and 'giving customers a voice'.
"It's not just a search for a room," gushes Jeff Mirman, Sheraton's Director of Interactive Marketing, "We're trying to have our users tell a story."
'Belong' – the very name itself suggests that Sheraton just don't get it. It smacks of traditional pre-web advertising. It's as if they're expecting their customers to get a warm and fuzzy feeling just by seeing the name.
Corporations often struggle with social software programs because they don't fully understand them. Their desire to push products, or maximise advertising revenue, overshadows any real commitment to developi.jpgng something relevant or useful for their users.
Marketers have been trying to 'build communities' around brands for quite some time. Most have experimented with chat rooms and message boards. Most have failed – I mean, who wants to be part of the Axe deodorant community!
'Belong' seems to be firmly rooted in this tradition – life is just too short to become part of a Sheraton 'community' that offers me no real value.
So what is so bad about 'Belong'? Well, basically it's a glorified guestbook. I say 'glorified' but there is actually nothing 'glorious' about it. You sign in, leave a nice comment about a Sheraton hotel, upload a photo and… well, that's it. "Smile. Welcome to the neighbourhood." Thanks for nothing! All that's left for you to do is click on the 'more hotel details' link and you're taken to a clunky interface containing typi.jpgcal hotel information.
You can only comment on Sheraton hotels and the cities that contain Sheraton hotels. This means that in South Africa you can only comment on Cape Town and Pretoria. There is no way to connect to my new found 'community', and no way I can share my information or discuss an issue with someone who has been somewhere I am interested in.
For Sheraton it's a missed opportunity, especially when you see some of the really nice stuff that is being developed. For example, check out my 'Favourite Places in Cape Town' Map on Wayfaring, or my flickr map. These give a tantalising glimpse of what is possible for the online travel industry.
Part of the problem lies in the lack of control that social software programs imply. Corporations are firmly rooted in a culture where brands are tightly controlled. Internet culture has developed in exactly the opposite way – 'information wants to be free' is the maxim.
I'm sure we'll see many similar inept attempts at social software in the months to come as the travel industry desperately tries to jump on the web 2.0 bandwagon.