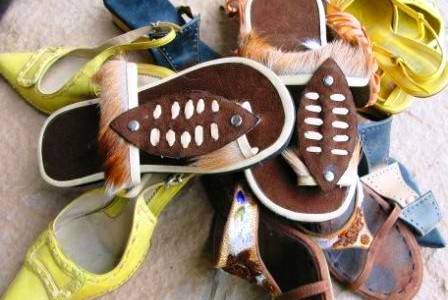 Jo Buitendag of Past Experience's I Love Shopping Tour should come with a warning: 220 volts pure Joburg – shop at own risk.
Jo describes herself as an urban archaeologist who's 1000% IN LOVE with Johannesburg, and you'll feel it when she mainlines you into the veins of this frenzied, fashionable city.
Jo, whose own style is a retro mixture of Betty Boop meets Stoned Cherrie, gathers her flock of fashionistas at Market Street in central Jozi, and scarcely gives you time to catch your breath before plunging you into the manic multitude that is Saturday morning shopping in Johannesburg.
Pointing out gloriously restored Victorian buildings, leading you through a traditional African muti (medicine) shop, and peppering you with fascinating facts you never knew about Johannesburg, Jo takes you on a rollercoaster ride that sees you bargaining for Basotho blankets one minute, and boarding the Rea Vaya, bound for the Fashion Kapitol, the next.
The tour lasts 4 hours, but once you discover the treasure of cheap cheerful bargains to be had in Joburg's fashion district, time seems shorter than one of Twiggy's miniskirts.
The area around Jeppe and Troye streets is Fong Kong central. Unashamedly faux, knock-off, fake, call it what you like, the fashion here is fun, and frighteningly cheap.
Hole-in-the-wall shops overflow with 'Made in China' shoes, bags, jeans, dresses, hats, and accessories, while thumping kwaito tracks and the occasional in-store rapper hypnotises bargain-hungry shoppers aged 3 to 100 to shop, shop, shop!
Stand out experiences for me on the tour were the seamstresses from West and Central Africa, catwalk ready in their peacock-bright dresses who'll sew you a fantasy for a pittance; and the fabric shops selling traditional shweshwe fabrics and TDF (To Die For) wax block print fabrics from Benin.

The fashion adventure ends on a predictably historical note at Joburg's oldest pub – the Guildhall. Die-hard retail junkies, capable of 8 straight hours of mall trawling, all collapsed exhausted but elated by the whirlwind of colours, sounds, smells and culture we'd experienced.
Some addicts gulped down cold beers, loaded their purchases into their cars, and went back for round number 2!
Not me. I had a Portuguese prego roll in one hand and an ice-cold Coke in the other as I tried to chew and comprehend the cultural washing machine I'd just passed through – on spin cycle!
A life-long shopper-phobe, I'd been reborn. Shopping really can be awesome. Beam me up Jo, I'm signing up to live on Planet Past Experiences.