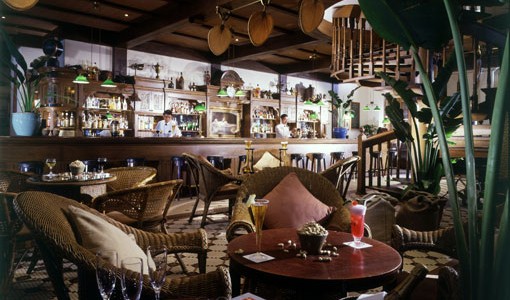 A trip to Singapore isn't complete without a visit to the Raffles Hotel's Long Bar.  The Long Bar is the birthplace of the Singapore Sling, a famous classic cocktail developed by former bartender Ngiam Tong Boon sometime prior to 1915.  As with many cocktails, the creation date—and even the exact recipe—is up for debate.
The original recipe is believed to have used gin, Cherry Heering, Bénédictine and fresh pineapple juice, which gave the drink its signature frothy head.  This recipe was lost sometime in the 1930s and subsequently forgotten, so the Singapore Sling currently served at the bar is based on memories of former bartenders and some hand-written notes recovered throughout the years.  Because this recipe is often misrepresented by bars and recipe books, most drinkers have never tasted the original Singapore Sling.
Today, the Singapore Sling is a commercialized, premixed version of its former self, churned out of machines like a cheap margarita, yet still priced like a hand-crafted, specialty cocktail.  Despite this modified mess of a drink, the Raffles Hotel is still worth a visit to experience the atmosphere of the historic Long Bar, a two story space inspired by the Malayan plantations of the 1920s.  And if you do visit the bar, ask the bartenders to make you a Singapore Sling by hand, which yields a much closer approximation to the original cocktail.