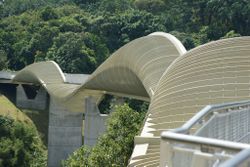 The Southern Ridges
is a trail in
Singapore
, 9 kilometers in length, that connects 3 large parks – The Mount Faber Park, the Telok Blangah Hill Park and the Kent Ridge Park. 
The area is known for its lush greenery and spectacular bridge constructions - a popular place to relax and get away from the hustle and bustle of Singapore.
One of the parks' many highlights is the Henderson Waves bridge, Singapore's highest pedestrian bridge. (photographed above) The 274-metre pedestrian bridge connects the Telok Blangah Hill and Mount Faber Parks. Its unique wave-like design consists of seven undulating curved steel ribs that rise over and under the deck, and form alocoves that function as seating areas. The wave-forms are illuminated in the evenings from 7pm until 2am each day.
In total, there are 8 trials to explore in the Southern Ridges, each with their own distinct features. The Faber Trail offers great panoramic views of the southern part of Singapore and the Southern Islands. The aptly named Forest Walk takes visitors through the secondary forest in Telok Blangah Hill Park. The Alexandra Arch is another highlight – an 80 metre bridge connecting Alexandra and Hyderabad Roads, which also accesses the Gillman Village and HortPark. The Canopy Walk is filled with an abundance of wildlife, including squirrels, doves, lizards, and white-crested laughing thrushes, to name a few.
Singapore is a fascinating and dynamic place to visit, and it's also one of the most densely populated places in the world. The Southern Ridges are a perfect place to relax and enjoy the nature in Singapore.