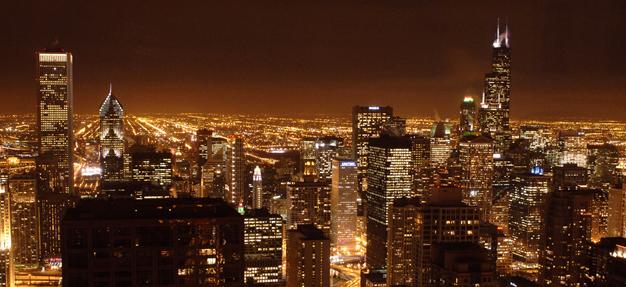 Chicago's a great town for residents and tourists alike, providing an impressive backdrop of massive buildings, public parks and world class dining. And besides the fancy stuff, there's an assortment of can't miss Chicago staples, like deep dish pizza, hot dogs and Italian beef sandwiches, plus several sports bars, beer bars and dives to take shelter from the winter cold.  But for an unparalleled view of the city, mixed with some seriously good cocktails, the Signature Lounge is a must-see stop when traveling to Chicago.
Located 96 floors above the ground at the top of the John Hancock Center, the Signature Lounge is a classy spot for cocktails, conversation and dramatic scenery. The all-glass walls provide expansive views of the city on one side and Lake Michigan on the other.  Visit on a clear day and see for miles, or enter at night to bask in the glow of the city lights.  But regardless of when you visit, score a drink, as they're quite good.
Cocktails range from standards like Manhattans, mojitos and martinis to drinks with more exotic flair, but for something truly unique, order the Peanut Butter Bourbon.  This crafty drink is simply peanut-infused Buffalo Trace Bourbon. It's served chilled over ice or neat – I prefer neat, as it lets the flavors really shine. The aroma is peanut goodness, and the flavor is sweet, but not cloying, and there's still plenty of that boozy wallop to remind the drinker he's having whiskey.
Between exceptional views of the city and a variety of good drinks, the Signature Lounge should be on every traveler's to-do list.  And if you're hungry, no worries – one floor below is the Signature Room restaurant, which offers a full menu to feed hungry diners as they fawn over the same spectacular city views as the patrons above.