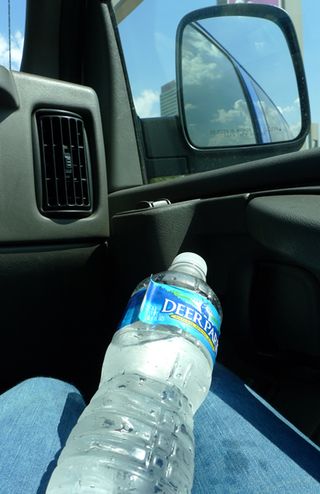 There are tons of things to do in New York in the summer, as I have mentioned in earlier blog posts, but when you are stuck on Manhattan on hot August days like these right now it's easy to feel that New York is not a summer city. The thermometer is showing way above 30 degrees, the humidity makes the hair stick to you forehead instantly and the only time you feel truly refreshed is the first five minutes after you've showered.
The best thing to to is of course to go to one of the many beaches surrounding the city but as it's impossible to have time to do that every single day you have to find those other little  cool spots that are around. Usually, in a city like New York, they come with AC. Normally I'm not too fond of that kind of fake cold, but at this point I have to admit it can be nice.
One thing that I normally never associate with summer is going to the movies. But here in New York many people actually hide away in the cool dark environment during the hottest hours. It's usually so cold inside you have to bring several jumpers to make the experience comfortable.
Another good spot to go to is one of the cities many pools
that are a lot easier to get to than the beaches. The one in north Central Park is usually packed with kids but if you just go to the Red Hook area in Brooklyn just on the other side of the bridge, there is an olympi.jpgc pool there which measures about 100 x 30 meters, and is definitely big enough to fit all that come.
One other important thing to remember is to drink plenty of water. The tap water here is fine, but when your out on the town it's a good thing that small bottles of water are sold almost everywhere. One location I hadn't thought of was the intersections on bigger roads, but I was happi.jpgly made aware of that when I came from the airport the other day. After being on the plane for several hours I really needed a refreshing cold drink and what do you know – right that second there was a guy outside my window and all I had to do was to hand him a dollar and the bottle was mine. That is what I call good service!