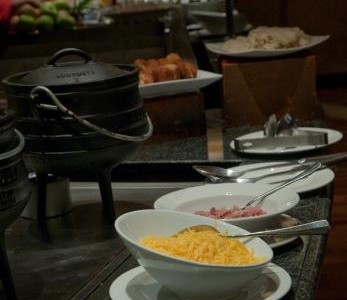 A Soweto restaurant meal doesn't have to be a corny cut-copy-paste experience where most of your fellow diners turn out to be German, French or American tourists, and not even the waiters are local.
Most tourists to Soweto never see beyond the standard Soweto Big 5 tour: Hector Peterson Museum, Regina Mundi Catholic Church, Orlando High School and Vilakazi Street, and the Mandela Museum. This includes the 'authentic' shebeen meal that inevitably concludes these tourist excursions.
Don't get me wrong. Every one of these struggle sites is worth a visit – especially Regina Mundi Church – the Holy Grail of anti-apartheid activity in Soweto during the 1960's and 70's.
It's just that the obligatory eateries on the tourist route, Wandies Place, Sakhumzi and Nambitha (+27 (0)11 936 9128) restaurants, tend to leave a stereotyped impression of Soweto cuisine in the same way that popular culture dictates that hamburgers and pizzas equal America.
Here then, are some alternative restaurants in Soweto, where you'll experience genuine township cuisine and atmosphere.
The Soweto Hotel on Freedom Square is worth a visit just for its gorgeous designer struggle-chic décor. And it's no more than a few kilometres from all the major attractions. The a la carte Jazz Maniac's restaurant serves stylish takes on classic township dishes for breakfast and dinner, or Rusty's Bar does an elegant High Tea and sophisticated cocktails with a local twist. Zandile Dhlamini (072 584 4673) of Aahaah Shuttle & Tours does an upmarket Taste of Soweto tour that covers street food, markets and more. Your package includes a massage and accommodation at the 4-star Soweto Hotel.
Roots Restaurant and Gallery lets you mix and match steakhouse fare with traditional side dishes, and vice versa.
Kwathabeng restaurant, on a hill in Pimville, is off the tourist route, and run by husband and wife team, Shana 'Violet' and Dumisani Mathope. Unpretentious meals, a mean selection of malt whiskeys and a stream of friends and neighbours makes this 'home-cum-shebeen' the real deal (+27 (0)11 938 3337).
Masakeng restaurant has an upmarket atmosphere, regular local jazz, and a cocktail and shooter menu guaranteed to leave you legless.
Chisa Nyama's are communal braai (barbeque) spots, and Soweto has dozens. Bring your own meat and booze, or support the local butchers and bottle-store owners, if you want to experience what's really cooking in Soweto.