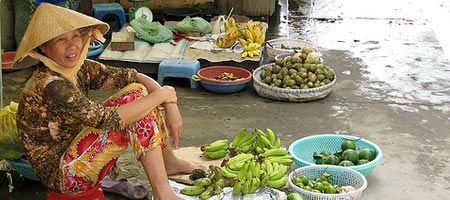 photo courtesy of flydime
At the end of a pretty incredible month in Vietnam, we're feeling pretty savvy about the country, and thought we'd pass on our Top 10 To Do List. Enjoy!
1.        Walk across the street in Ho Chi Minh City.
It might feel like suicide at first, but being able to confidently cross the street while a mass of motorbikes, cars, taxis and buses are bearing down on you is the mark of a seasoned traveler.
2.        Take an overnight train
Because it's so much more fun than flying or bussing it, and you get to see so much more of the country as you're clacking along. You're also guaranteed some interesting conversations with your cabin mates (there are no two person cabins).
3.        Eat local
Although there is Western food on pretty much every menu, don't succumb to the lure of familiarity! Vietnamese food is simply delicious.
4.        Get some clothes tailored in Hoi An
It's a once-in-a-lifetime experience – having a tailor measure you up and make clothes (and shoes!) that fit perfectly and cost less than they would at home. Unmissable.
5.        Ride on the back of a motorbike
You probably won't have a choice in this, because some places only have motos as transport, but you need to cling to the back seat of a motorbike to understand the crazy logic of Vietnamese traffic.
6.        Go trekking in Sapa
Trekking is really just another word for hiking, but the hiking in Sapa (right in the North) is simply spectacular – mountains and rice paddies and local villages spread out as far as the eye can see.
7.        Spend a night on Halong Bay
Yes, that's on, not in. Spend a night on a wooden junk in Halong Bay to get up close to the incredible limestone karsts that dot the aquamarine water. Wow.
8.        Visit a museum
There are so many to choose from! War museums, art museums, museums of ancient Cham pottery, folklore museums, the choice is yours. Make sure you take in a couple for a deeper understanding of Vietnamese culture.
9.          Roll your own springrolls
Because there's nothing tastier than fresh spring rolls.
10.        Take your time
Many tourists zip through Vietnam in two weeks, but the distances are so great between the North and South that it's much more pleasant to take your time and really soak up all the country has to offer. For our itinerary, and more travelling tips, visit Just the Planet .