Our mission, in Thailand, has been to
stay as far away from tourist hot spots as possible. It's not
always that easy, especially when it seems as if everything –
transport systems, information, places to stay – have been
organized around keepi.jpgng all the tourists on the same grid. Still,
it's a skill, and we're getting a lot better at it! Here are a
few tips for next time you're in Thailand…
There are loads of people who will try
and sell you tours – don't buy them! With a little research, it's
not too tricky to figure out where you want to go, and how to get
there (bearing in mind that most people in Thailand will be reading
the same guide book as you, so there's not too many hidden gems
found there)…
Our first stroke of luck was being told
by friends to skip out Chiang Mai (where the overnight train from
Bangkok drops you off) and head straight for Chiang Dao – a small
town in the forest about an hour and a half bus ride from Chiang Mai.
We watched hordes of foreigners traipse off into Chiang Mai, and took
a bus where we were the only non-locals up to Chiang Dao. What a
heavenly spot! In the middle of the forest, surrounded by mountains
on all sides, and with hardly any tourists or touristy spots. We
stayed at the wonderful Chiang Dao Nest, and walked to a monastery
set in the forest (with 500 steps to walk up and down) one day, the
famous (but largely deserted) Chiang Dao Caves the next… We also
got the chance to see a little of real Thailand – how people live
from day to day, what their lives are like out of the tourist
spotlight. A rare treat.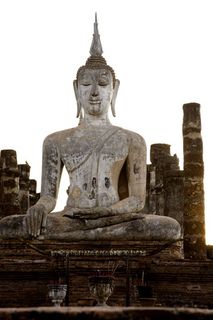 From Chiang Dao we chose to visit the
lesser-known historical city of Sukhothai. Most people go to
Ayuttayah, a few hours out of Bangkok, for their ancient-ruin fix,
but Sukhothai is a much better bet – far less popular, and so
possible to get a real sense of what the ruins feel like. We also
decided to stay in Old City Sukhothai, about a twenty minute drive
from the more developed (and thus less characterful) New Sukhothai,
where all the other people on our bus were staying… The beauty of
Old Sukhothai is that it's right next to the ruins, an easy cycle
ride away, in fact, and so you can explore them early in the morning
(5.30am – reeeeally early in the morning) and late in the
afternoon, when all the other tourists have gone home, the light is
at its best, and the air at its most peaceful.
So there you have it – our
suggestions so far. If you're looking for a taste of real Thailand,
away from the maddening crowds, head for Chiang Dao and Sukhothai…
And don't tell too many people!