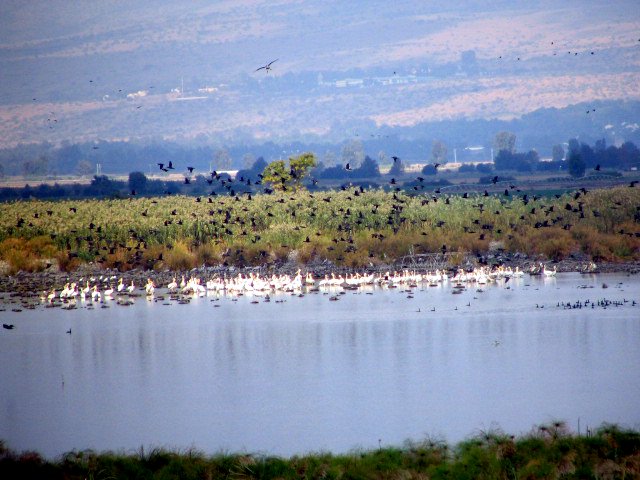 Since Israel is in the intersection between three continents (Europe, Asia and Africa), a huge number of migratory birds fly through the country every spring and fall. It is estimated that at least 500 million birds pass by Israel every year.
One of the regions where the migratory birds take a rest is the Hula Valley in northern Israel, which of course is very popular among bird-watchers from all over the world. More than 200 different species of bird have been observed there, e.g. cranes, storks, pelicans, cormorants, herons and owls. The impressive cranes for example, pass by the Hula Valley by tens of thousands per day, on their way between Europe and Africa.
In the nature reserve surrounding the Hula Lake there are very nice tracks for walking and, if you are lucky, you might see wild boars, jackals or bison, which live there. Furthermore, in the water of the Hula Lake, you can observe different kinds of turtles, rare water plants, etc. A "floating bridge" has been built over the water and there is also a special view point for bird-watching.
A visit to the Hula Valley is highly recommended for all who are interested in nature. (The park is suitable both for children and for disabled persons.) The best times of the year to visit the area are winter and spring, although it is very nice all year round.
You can get to the Hula Valley by car or by bus from one of the nearby cities Rosh Pina and Kiryat Shmona. Since the Hula Valley is a national park, you have to pay a minor fee to get into the nature reserve, but it is well worth it.
Photo: yanec