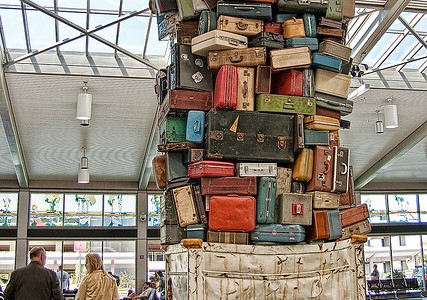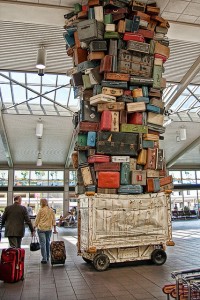 Have your bags ever fallen victim to the bottomless pit of lost luggage? If you're a frequent flyer and the airlines haven't lost your luggage before then consider yourself fortunate. As frustrating as it is when the airlines lose your luggage I guess you have to put it down to human error… these things happen. At the same time it can be an extremely annoying experience when you're not sure of the lost luggage procedure.
What to do if your luggage is lost
Having baggage insurance is one thing but most of us will agree that we want to get our original belongings back. There are some precautions you can take that'll ensure you never lose valuable luggage.
Pack your valuable items in your carry-on luggage. Many airlines won't cover valuables that get lost or stolen in your check-in items. This includes passports, cameras and cellphones, money and jewellery.
As a general rule; pack your clothes, shoes and toiletries in your check-in luggage and all your super important stuff in your carry-on luggage.
Hold on to that little barcoded ticket you're given when you check your bags in. The ground staff will usually stick it on the back of your boarding pass.
Initiate the lost luggage procedure
Sometimes, through no fault of your own, the airlines will lose your luggage. In the event of your luggage going AWOL, don't panic. Follow our lost luggage guidelines
Initiate the lost luggage procedure by filing a claim at the airport (where you've realised your luggage is missing) as soon as possible.
When you file your lost luggage claim, make sure you leave the attendant with a valid address and phone number so that you're easily reachable and so the airline can deliver your bags when they're found.
"The scientific theory I like best is that the rings of Saturn are composed entirely of lost airline luggage." – Mark Russell
Find out more about SAA's lost luggage policy.
Traceable luggage tags
Traceable luggage tags are a nifty invention that gives you more control over the whereabouts of your luggage when it's out of your sight. Traceable luggage tags are a GPS locator for lost luggage and will be a cost that you will incur so that your chances of losing your luggage are vastly decreased. They work on a global scale and will give you peace of mind for those long haul flights where multiple connecting flights and stopovers can increase your chances of losing your luggage.
Did you know? 53% of South African travellers would rather deal with the possibility of contracting swine flu than run the risk of losing their luggage.
Feel free to share your lost luggage tips below. If there's something we've missed then our readers can benefit from your personal lost luggage experience.
Image by: GenBug
[boilerplate bytitle="text"]