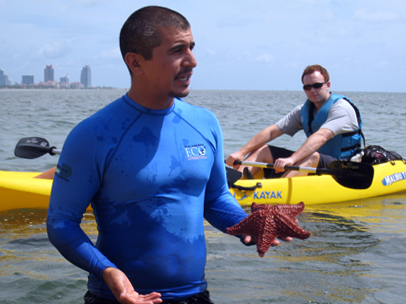 Before I went to Miami I had a very stereotypical image of the city. Party and crime – was what first came to mind. Now that I have been here for a long weekend, I am happy to say that I've been pleasantly surprised. Especially because of the beautiful nature that is to be had in the surrounding areas.
The very first night my friend, who lives in the city, took me out on a boat in the bay between downtown Miami and Miami Beach. Not many cities can boast clean enough waters for swimming, but Miami is one of them. Many people throw out their anchor in the shallow water outside Key Biscayne for a quick dip. From here you can also see the sunset. This time we continued out to Stiltsville, seven houses that were built on stilts in the water in the 1930's, and that still stand there. In the middle of the harbour there is also a tiny little paradise island with palm trees, a sandy beach and all. It is a cool experience to go for a swim with the skyline of the city in the backdrop.
The next day we went to Coconut Grove, a green residential area in south Miami. The place is perfect for a bike ride along the lush streets with relatively little traffic. It's also a bit fun to see how the extremely rich live – some of the houses are amazing!
– Get the lowest airfare by using Cheap flights to Miami with OneTravel –
One more piece of nature that I got to experience on this trip was a snorkel tour at Crandon Park. The park is situated on the island Key Biscayne and from here you can go kayaking, biking, walking and snorkling. There is no coral reef here – instead it's a very old fossilized rock reef, the guide told us. But although the area was kind of small and the water very shallow, we got to see sting rays, nurse sharks, lobster, squid and barracuda.
This tour, which I can wholeheartedly recommend, is organised by Miami Dade Parks, Eco Adventures.