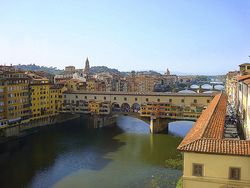 (photo courtesy of JoeRuny)
The Ponte Vecchio (Old Bridge) is a historically significant bridge, located in Florence, Italy. 
The bridge was believed to have been first constructed in the Roman Times more than 1000 years ago, and it has been rebuilt several times over the centuries, due to damage from floods. It's notable today not only for it's age, and for being a remarkable engineering achievement of the Middle Ages in Europe. 
It's also rare in that the bridge both today and historically, has been a bustle of lively retail activity. The bridge is filled with shops from one end to the other.  The colorful backshops you can see in this photo have been there since the 17th century. Today, the bridge is filled daily with locals and tourists, and the shops range from butchers to jewelry stores to artistic offerings. 
It's believed that the concept of bankruptcy originated here at Ponte Vecchio. When a merchant couldn't pay his debts, his table was broken by soldiers, a practice called "bancorotto."  
In WWII, it was the only bridge in Florence not destroyed by the retreating German army. 
There is a statue on the bridge of Benvenuto Cellini. In recent years, tourists have taken to locking a padlock to the railing, and throwing their key into the ocean, as a symbol of their love. Efforts have been taken to discourage this practice – tens of thousands of locks were being removed annually, causing damage to a historical landmark that's centuries old. 
If you go to Florence, have a wonderful time at the Ponte Vecchio. But please don't leave a padlock on the centuries old bridge. 
(photo left courtesy of jalvear)