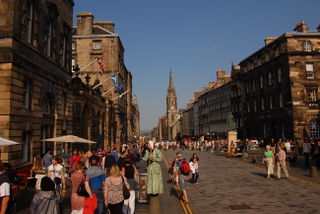 For those of you who have visited
Scotland
, you've heard of the
Royal Mile
. 
Located in
Edinburgh
's historic Old Town, the Royal Mile is the name given to a mile-long area that serves as the city's busiest tourist street and epi.jpgcentre of activity.  
You can walk the Royal Mile in about 20 minutes time, or, you can take about 8 hours to walk it, as I did this summer with a few friends. (We kept getting sidetracked into various restaurants, pubs, watching street performances, checking out a concert, and exploring ancient buildings.) 
Perched at the top of the Royal Mile is the Edinburgh Castle, Scotland's 2nd most visited tourist attraction – most of the castle's structures date back to the 16th century, with the exception of the St. Margaret's Chapel of the 12th century. The evening we were there this summer, the footing of the castle played host to a large outdoor music concert. 
Every visit to the Royal Mile will be a unique experience, depending on what might be happening there on a given day.  You will see a variety of street performers and entertainers, a mix of tourists and locals, unlimited supply of shops, restaurants, and pubs. There are countless historical attractions to take in, including St. Giles, which dates back to 1120, and is now the High Kirk (Church) of Edinburg.  You can also take in the new Scottish Parliament at the Holyrood Building, and the Palace of Holyroodhouse. 
The area is the centre of activity in Edinburgh year-round, but is most busiest during the annual Edinburgh International Festival August 14 to September 6, 2009.