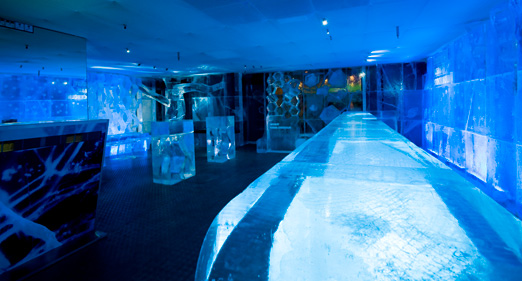 With the cold winter arriving across the northern hemisphere, it feels time to uncover some fresh winter experience ideas.
Usually during the Swedish winter (where I live) I choose to hibernate, spending much time indoors, while venturing out for the occasional ice skate on the frozen lake or long walk in the snow.
But this year I'm looking for new ideas – I want to experience something different than my ritualistic favourite winter activities.
So I asked a friend of mine what was her most out-of-the-ordinary winter experience, besides the usual activities people in the cold, northern part of the world do. Her response was a visit to the ABSOLUT ICEBAR, the world's first permanent ice bar, located within the Nordic Sea Hotel in Stockholm, Sweden.
Basically, the ICEBAR's concept is that its entire interior is made from 100% pure clear ice (including even the glasses). The temperate inside is computer-controlled to a chilly -5°C at all times, and the hotel provides all visitors with gloves and a warm cape, so you can bare the frigid conditions. (Love birds can even book a double-cape!)
Each year the ICEBAR has a themed-design, with this year's being AQUATIC, an expedition into the ice depths of the ocean. The ICEBAR opened in the centre of Stockholm in 2002 and has been welcoming cool customers ever since.
The IceBar experience is available to everyone, yet hotel guests are able to take advantage of couples packages that includes one or two nights of accommodation, a generous breakfast buffet and one visit to the ICEBAR, enjoyed with an ABSOLUT Vodka beverage. Times need to be pre-booked, as space is limited, and you can book for anywhere between 1 and 60 persons.
So, if you're looking for an out of the ordinary winter experience this year, try Stockholm's ABSOLUT ICEBAR, the first of its kind and most likely, the world's coolest bar.