In our last Angels' blog, we wrote about our idea to host a Painting Party for ThembaCare in Grabouw. This came about after our previous visit to the property when we noticed that the building was in need of a face-lift. We were lucky enough to get funds for the event, sponsored by Derek van Dam and Adventure Boot Camp for Women.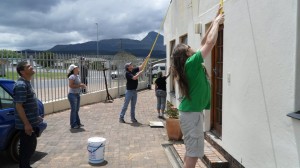 ThembaCare is a project of the Thembalitsha Foundation. It's a hospice that has both in-patient and out-patient facilities and cares for Grabouw's HIV and TB infected residents (34% of Grabouw's population is HIV positive).
This was a particularly special event for us Angels, as it was the first event where we were able to invite the public. We had a fantastic turn-out and, in spite of the bad weather conditions, it was a great success. We were a little set back when we arrived to witness the dark gray clouds crawling in but we persevered!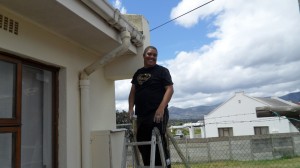 After an eye-opening talk from Sr Joyce, we got to work! Some cleaning, some painting (some cleaning up after the painters!), and even some mowing the lawn! At the end of the day, after a lot of hard work, ThembaCare came out shining. It's amazing what a little bit of paint can do!
We would like to thank all those who made the effort to come out to Grabouw, and give a very special 'thank you' to our sponsors.
The biggest 'Thank You' goes to Sr Thandi, Sr Joyce and all the nurses and volunteers who do such amazing and selfless work for the people of Grabouw. We shall see you again soon…
Blessing to all this festive season,
Love the Travelstart Angels