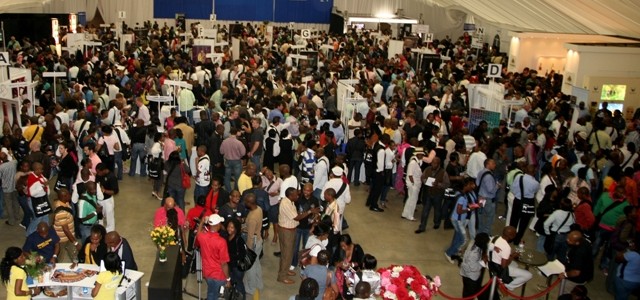 There are a few reasons to get to the Soweto Wine Festival, besides the excellent line-up of 100 wine producers, purveying 800 labels from collectable vintages like Diemersfontein and Glen Carlou, to easy-drinking, light on the wallet, Four Cousins and Douglas Green.
What makes this wine festival in Soweto a must-do, besides the homegrown wine and food, is eKasi's attitude.
In case you didn't know, Soweto's real name is STYLE-weto. When they teach kids the alphabet here, A is for Armani (nee Ackerman's). If you can't afford it – fake it. Just don't be showin' up in baggy, hole-y, threads from last season, y'hear? At least not if you hope to get into 1 of the 5 VIP wine lounges, and talk grape with Mzansi's wine cognoscenti.
Wine is a relatively new drink for most residents in this township. For many it's their first ever wine festival, and it wouldn't be rude, or wrong, to describe the punters as sponges. They're keen to try a little of everything, and even keener to soak up as much wine knowledge as the festival can throw at them.
That said, there is a growing contingent of heavyweight wine aficionados that hail from Soweto, and since everyone is dressed to the nine's they're not easy to spot. Though you'll mostly find them sniffing and swirling in the Platinum Area of the festival, avoid wine-prat speak, if you don't want to find yourself blushing pinker than a natural sweet rosé.
Soweto wine drinkers, especially the women, like their wines like marshmallows – pink or white and sweet! Encouragingly, no one's pooh-poohing this preference. Rather, wine makers are coming to the party, and creating wines that appeal to the market; rather than withdrawing into wine snobbery, crying "Chablis or bust!", before drowning themselves in a vat of Grand Cru.
In a bid to introduce township tipplers to the variety of Cape wines available, food and wine pairing workshops at this year's Soweto wine show will focus on teaching wine lovers how to choose the right wines to go with different courses during a meal using the 5 tastes: bitter, salty, sour, sweet, and savoury.
Most Sowetan's love spicy foods, so deciding what wine goes best with a spicy atchar (Indian pickle), bitter morog (wild spinach) or hot-as-hell chakalaka (a cooked tomato-onion-chilli relish that can include peppers, carrots, cauliflower and beans) is going to elicit some interesting debate. Personally, faced with such powerful flavours, I'd ditch the vino, and opt for a zamalek, or Black Label, SA's most popular beer.
Above all, the Soweto Wine Festival is FUN, and unconventional. The wines flow freely, and as the night wears on, the wine estates have a tough time ensuring they keep up with tasters' demands. Hint: there's not a lot of spitting at this wine bash.
The Soweto Wine Festival runs from 2 to 4 September at the Main Hall, University of Johannesburg Soweto Campus, Chris Hani Road, Soweto. Doors are open from 6pm to 10 pm daily. Tickets are R60 per person and can be bought at the door.
And, remember – whether you're a sista or a bro', (or a bottle), it's all about the label, daahling….