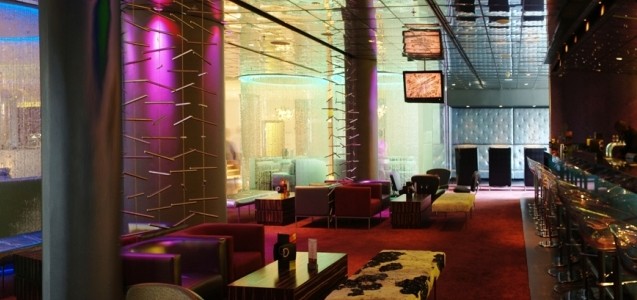 Johannesburg bars are some of the best nightlife spots around.
Trendoids, recessionistas, and Gaga look-alikes flock to the Circle Bar at the Crowne Plaza Johannesburg-The Rosebank Hotel where neo-classic cocktails, wines and champagnes are served in chrome-covered, plush leather, retro Vegas surrounds.  Slip into one of their intimate colour changing bead-fringed Perspex pods for tête–à-tête with a BFF, or tryst with a minor celeb, and try not to spill your Cristal, sweetie.
Less than 10kms away from trendy Rosebank, and a world away in terms of vibe and inspiration, is Mama Tembo's in Linden. Mama's tries seriously hard to be a genuine shebeen (township tavern) experience in a middle-class (mostly white) suburb. Food's well-priced and eclectic, if occasionally misguided in its' attempts to be authentic (only gullible tourists willingly eat mopane worms – roasted, they taste like charcoal), but if a come-as-you-are, noisy, all night jol (party), with plenty of beer and some good local muso's appeals, tell your mama not to wait up.
In Orange Grove, the Blue Naartjie (a local word for a tangerine) is part Amsterdam coffee bar part Spaceship Enterprise. Devotees of this best-kept secret Jozi bar are known as the 'Illuminaartjie', and intergalactic travellers, hard-news journo's and in-the-know earthlings make the pilgrimage here. Grungy, gritty, with great sushi, B.U.M.S (Basic Up Market Socialites) stick out here like sore thumbs. In terms of Johannesburg nightlife, this is Area 53.
If the thought of cocktails with Klingons leaves you cold, time travel back to the Radium Beerhall, also in Orange Grove. Jo'burg's oldest surviving bar and grill (it was established in 1929), the Radium, and its affable host Manny, is a Jo'burg institution. Visit for the vibe, the pre-war memorabilia, and the old-time jazz. It's Bourbon Street in Jo'burg on the corner of Louis Botha Ave and 9th Street.
Serving steaks, burgers, and trinchado to sports fans for 15 years, Johannesburg entertainment doesn't get better than the original Grand Slam Sports Diner in Edenvale. Locals pack-out this venue for its mother-TV screen, stadium atmosphere, hearty portions, and beer on-tap. Book a table on match days to avoid disappointment. Corner Elm & Sycamore Str, Dowerglen, Edenvale (+27 (0)11 454 3700)
Bringing the Johannesburg bar experience full circle, head back, or rather sign-in to MiBAR at the Design District in Rosebank. This online-meets-offline, innovative social networking concept has digital dudes and divas all a-Twitter. In-counter touch-screens let customer's text other tables, login to Facebook, and play in the virtual MiWorld while sipping cyber-cocktails.
MiBAR's got to be the ultimate place to go on a blind date. In the event of the arrival of a programmer nerd with an 8-gig ego who only speaks Java, your avatar can vlirt (that's virtual flirt) with the hot e-marketer 2 screens away.