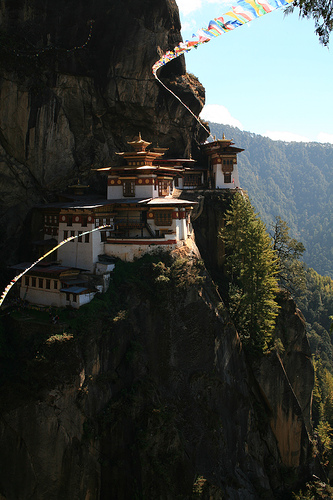 (photo courtesy of Dana + Leroy)
The Tiger's Nest, or Paro Taktsang Monastery, is the name of Bhutan's most famous Buddhist monastery. It's located on a mountain perch, 700 metres above the Paro Valley below, and more than 3,000 metres above sea level. 
The only way to reach the monastery is hiking by foot. Or you can hire a mule, if your feet are tired. 
In April 1998, a large part of the monastery was destroyed by a fire. Over the next seven years, a restoration project took place, being completed in 2005. It was actually the second major fire the monastery has endured – another took place back in 1950. It was originally built in 1692. 
Bhutan is considered to be one of the most remote travel destinations in the world. Be advised that if you wish to visit the tiny mountainous nation, you need to pre-arrange the visit with a registered agent. The country is open to tourists year-round, yet visits to the country must be arranged in advance. 
If you wish to visit the Paro Taktsang Monastery, you will require a special permit from the Department of Culture, Ministry of Home & Cultural Affairs, located in Thimphu, Bhutan.