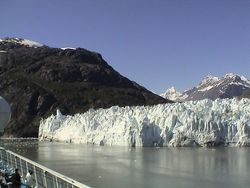 (photo courtesy of Tostie14)  
On a recent bus journey from Vancouver Canada to Seattle in the U.S., I was fortunate to share a seat with a very friendly woman from California, named Marie. 
Marie was 82 years young, very energetic and enthusiastic about travel, and was on her way home from her first ever cruise, a week long voyage to Alaska.  
"It was one of my favorite trips ever," Marie told me. She asked if I would like to hear some of the stories she had written down from her journey.  "Of course" I replied – what better way to occupy a 6 hour bus ride, than listening to nice travel stories told to me from an elder. 
Marie got out her little notebook, and filled me in on what she learned while in Alaska:
– "Did you know that Alaska is the largest state in the U.S., almost twice the size of Texas, and its also the least populated? (Most people always assume Texas is the largest state.)
– Alaska was purchased for less than 6 cents per acre from Russia.  
- North America's tallest mountain, Mount McKinley, lies in Alaska.  
- Alaska has personal income tax, or any sales taxes.
- Juneau is the capi.jpgtal, and it's the only American capi.jpgtal not accessible by road.
- There are more than 100,000 glaciers in Alaska.  
I found these facts interesting, but Marie was far more fascinating. In the past 70 years, she figured that she had seen at least 50 countries, if not more. (She lost count sometime in the 80's.) 
The 6 hour bus ride flew by in what seemed like minutes. Marie not only told many stories about her Alaska trip, but she had also travelled much of the world, during the past 70 years. Her parents were expatriates, so the travel bug set in early, and never left her to this day.  
Marie made me realize that we are never to old to explore this world. At 82, and still not yet home from her Alaskan cruise, she was hinting that she might visit France on her next trip. 
"Paris is lovely in the spring" Marie told me.   What an inspi.jpgration this woman was. Of my four week trip in Canada and the U.S. this summer, meeting Marie was surely one of the highlights.