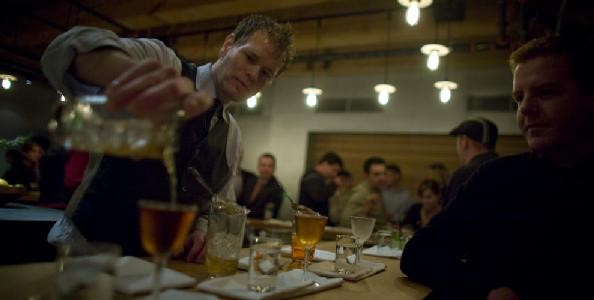 Travellers to the United States will witness a revival sweeping the nation.  But rather than architecture, music or religion, this revival is the restoration of expertly-crafted, handmade cocktails to American bars.  As usual in the states, the coasts are leading the charge, with the best cocktail lounges located in popular travel destinations like Los Angeles, San Francisco, New York City and Boston, which boasts one of the best bars of the bunch: the aptly named Drink.
Started by renowned Boston restaurateur Barbara Lynch and skilled bartender John Gertsen, Drink is situated just off the water in the Fort Point neighborhood of Boston.  Nestled in the basement of a former warehouse, Drink's sophisticated, industrial space conjures a 1920s American speakeasy vibe, complete with exposed brick walls and a white oak bar.  But as the name implies, its drinks are what really sets this bar apart.
With no cocktail menu, bar patrons rely on the encyclopedic knowledge of the bartenders, tasked with fashioning drinks as common as the martini and as obscure as the Vieux Carré, a classic New Orleans cocktail composed of rye whiskey, cognac, sweet vermouth, Benedictine, Angostura bitters and Peychaud's bitters.  If the lack of a menu and the myriad of choices overwhelm a customer, he is encouraged to name ingredients, adjectives or moods, and Drink's bartenders will happily craft a cocktail that is "festive," "green" or made with grapefruit.
All cocktails are created with the best ingredients, including fresh-squeezed juices, house-made infusions and just-cut herbs, and at Drink, there's no naming your brand.  The bartenders will make your drink with the brand of spirit they deem most appropriate, thwarting the label-conscious crowd from ruining a perfectly good cocktail.
To soak up all those cocktails, Drink offers a small menu of canapés that changes every three months and features seasonal items like bacon-wrapped dates with gorgonzola fondue, cumin flatbread, quail brochette and bay scallops.