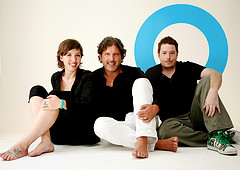 Travelstart – Irrational Merge
Originally uploaded by Dplanet::.
Press release:
South Africa's top online travel agency, Travelstart.co.za, has acquired Irrational Studios, an innovative branding and user experience design consultancy.
Since its launch in South Africa in August last year, Travelstart has achieved unprecedented success and was recently rated by Alexa.com – the Amazon.com web-traffic ranking report – as one of the most popular South African online travel agencies.
Irrational Studios was founded by Damian Stephens, former Creative Director of Ogilvy Interactive and Tinderbox. With designer Anne-Sophie Leens, he began working on the Travelstart account last year.
"Travelstart is the most innovative online business in South Africa.
The opportunity to establish a branding and user experience design
division within such a company was too good to pass up as there is
unlimited scope for us to do meaningful work. By establishing this
division Travelstart are sending out a message that user experience is at the core of their business. It's great for both parties" said Stephens.
Business administration within the two companies has been streamlined and the team works closely with Travelstart founder Stephan Ekbergh.
User experience design (UX) is a relatively unknown discipline in
South Africa. Its aim is to make websites useful, usable, desirable,
valuable, findable, accessible and credible. For Ekbergh, UX
contributes to the bottom line and improves customer satisfaction.
Transactional travel websites are particularly challenging as large
amounts of potentially complex information must be displayed in a way that makes it simple to understand and use.
Ekbergh sparked an e-travel revolution in Scandinavia in the mid-90s when he launched his first travel website. Travelstart is now one of the leading online travel agencies (OTA) in the Nordic region and is fast becoming an industry leader in Europe and the Baltics.
The Cape Town based team at Irrational Studios recently completed
re-branding the business both locally and internationally. They are
currently working on numerous new projects including a comparative car hire system, an alternative travel search system, and a social
software program that will enable travellers to connect and share
their experiences. "These programs are designed to promote client
retention and increase organic search rankings" said Stephens.
UX is a key element in the success of the Travelstart websites. "We're
helpi.jpgng fulfil Travelstart's promise of being the simplest way to find and book the best travel deals" concluded Stephens.