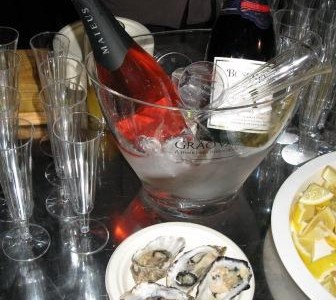 Winter in Jozi can be pretty nippy. It doesn't snow (though it's been known to), but there's no mistaking the pink-nosed chill of a Jo'burg morning or late afternoon, when beanies and gloves are as must-have as a steaming cappuccino.
When the sun decides to get its lazy-ass outta bed and spread a little love-light, daytime  temperatures can reach the mid-teens to early twenties (Celsius that is) meaning there's no excuse to mope around indoors watching re-runs on the telly, and making whoopee with your heater.
Beyond the city limits, Jo'burg offers a surprising array of outdoor activities, from berserker stuff like jumping off cooling towers to sandboarding down mine dumps. But if you like your leisure pursuits a little mellower, and then mosey on down to the Vaal River, south of Jo'burg from the 5th of June to the 25th of July for some  great value for money wine tasting, dining, and river cruising.
Billed as a wine route, the Vaal River Wine Meander is the ideal weekend getaway for lovers of food and wine who like a little riverfront scenery with their hors d'ouvrés. In summer, the Vaal River is the preferred playground of Jozi's well-off water babies, who head down to their weekend homes on the waterfront to boat, water ski, jet ski, and fish.
The concept of the meander is simple: spend a winter's day wine tasting. Except there aren't a whole lotta wine estates on the banks of the Vaal River. No problem. The route organisers have invited over 25 Cape estates to head to the Highveld, bringing their best vintages with them. All you have to do is make the +/-45-minute drive to Vanderbijlpark and enjoy a weekend of relaxed wining and dining as you visit different venues, tasting different wines.
Here's how it works. Each participating venue will host between three to six different wine estates. Wine tasting is anytime between 12h00 and 18h00 on Saturday and Sunday. R20.00 buys you 8 tastings, and should you wish, you can buy the wines from the venue at cost + 10%. There are some exceptional wines on show, covering the breadth of the Western Cape wine growing regions, from Oranje Rivier Cellars in the Northern Cape to the cool-climate masters of Hermanus in the Overberg. Look out for boutique wines from Lovane, organics from Reyneke, and export-only wines from the estate of international golfer Retief Goosen, under the Goose label.
There are some fabulous packages on offer during the meander, like a river cruise, hosted wine tasting, and lunch for only R240.00 per person, or a 3-course food and wine pairing for R80.00 p/head. If you wish, you can do the entire wine route on the river. Private cruise boats (skipper included) will ferry you from one wine spot to the next at your leisure, and wait as you sample wines and or enjoy a lazy lunch. Prices start at around R400 p/person for a 4-6 hour cruise.
Drinking and driving isn't something that the law in Jozi takes lightly, so a good option is to do the Full Monty and take an organised tour. Make a weekend of it by piling a dozen of your mates into a mini-bus, or schmooze around in a cushy limousine. Take advantage of the winter accommodation rates offered by the guesthouses and lodges in the area, and if wine tasting isn't really your thing, there's the Emerald Casino nearby, Anglo-Boer war sites to visit, or relax at a spa.  As one regular on this winter wine route put it: the Vaal River Wine Meander is all about booze-cruise-snooze. In any order that takes your fancy.