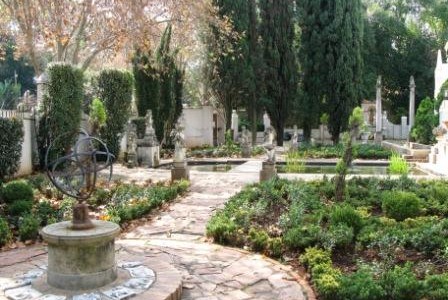 When I was 6 or 7 years old, almost every Sunday, my father would drive my sisters and I from Johannesburg's northern suburbs to Hillbrow to visit my grandmother. We always travelled along Jan Smuts Avenue, past Zoo Lake, along the edge of Parktown toward Braamfontein, and then we'd bear left into Hillbrow.
Each time, we'd pass a mysterious looking corner house on a bend in the road, about two city blocks away from the Jo'burg Zoo (coming from Rosebank side). Hidden behind forbidding walls and tall cypress trees, the only features visible from the road were an assortment of cherubs, lion statues, and a stern looking eagle perched on the roof.
Everything about the house appeared frozen in time. It was secretive, grand-and-shabby looking, and corkscrewing my head to catch the longest glimpse I could of its theatrical gables and obelisks was the highlight of my trip. For years I'd tell people to look out for the Scooby-Doo house, for that was how I remembered it: a crazy-looking spook house you could drive-by. Except I never saw a cartoon Great Dane come running out of it yelling, "Zoikes!" Pity.
Three-and-a-bit decades later, I finally get to see behind its high walls when a friend invited me to join her for a spa treatment. "Where are we going?" I asked. "Camelot Spa at Villa D'Este," she said. Wherever. A free spa day with a mate – who's going to argue?
Approaching the bend of the busy road where the house becomes visible, I was about to give my friend the 3-second exterior tour of casa Scooby-Doo, when she said, 'We're here.' "You're kidding!" I exclaimed. 'This is the spa?'. Giving me the 'No-I just-stopped-here-because-a-MacDonald's-quarter-pounder-jumped-out-in-front-of-me-IDIOT' look she smiled sweetly, "Yes."
Villa D'Este (it wasn't called that initially), we discovered, was built in 1923 in a hybrid Dutch-Spanish style. In 1955, architect David Morrison bought the house, and spent 26 years renovating it to resemble a Florentine villa – modelling it on the Villa D'Este in the Tivoli Gardens in Rome. Ditto the grounds. The gardens in the Saxonwold version though, are a postage stamp-sized replica sans the terraces, with leaky cupids as opposed to grand fountains.
The interior of the villa has been converted into a retro baroque day spa – award winning – where you can rubbed, scrubbed, and made to feel gorgeous – indoors or out. On site, tucked away behind a whitewashed wall, is the Bird Cage restaurant, which has the feel of an intimate café somewhere in rural France. Post-massage, we sat here, sipping cappuccinos, nibbling choc-chip cookies, and nattering beneath a grove of trees.
It turns out that casa Scooby-Doo is one of Johannesburg's best-kept secrets. Luxuriate at the day spa, settle in for a romantic tea or lunch, or wander through the peaceful garden, and admire the restored mosaics and refection pool, or try chatting up the cornucopia-carrying putti.
In case this Italianate oasis of calm sounds too tame, trying to enter the traffic flow on Jan Smuts Avenue without being sideswiped by a low flying taxi will have your adrenalin back up to Jozi approved levels in no time.