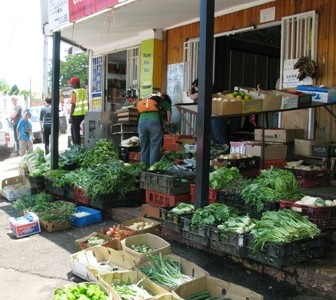 Johannesburg is among the few cities in the world to have 2 Chinatowns.
Jo'burg's first Chinese immigrants arrived mainly from Guangzhou (Canton) in the late 1800s, and settled west of the city. Here they set up laundries, general stores, restaurants, and teashops that eventually came to be known as old or first Chinatown.
Situated at the western end of Commissioner Street, in downtown Johannesburg, old Chinatown is fast disappearing, as second and third generation Chinese spread out to live, and do business, in greater Johannesburg.
Three places you must-visit in Old Chinatown in Johannesburg are:
The Swallows Inn – Jo'burg's oldest surviving Chinese restaurant.
(+27 (0)11 833 2946)
Sui Hing Hong – a massive delicatessen/gift emporium stuffed to the ceiling with imported Chinese groceries, crockery, steamers, woks, and more.
(+27 (0) 833 7704)
Yung Chen Noodle Den –  delicious street food at this unpretentious eatery.
(+27 (0)833 5924)
Don't be put off by the scruffy, run-down appearance of old Chinatown. The Johannesburg Central Police Station is literally across the street. If you go at lunchtime, be prepared to wait, as both restaurants are extremely popular.
East of Johannesburg, in Cyrildene, is Johannesburg's new Chinatown. Located along Derrick Avenue, for 4 city blocks, Buddhist temples, Maoist centres, street grocers, massage parlours, supermarkets, and dozens of restaurants crowd this former Jewish quarter.
Businesses here are mostly Chinese owned, but it's the best place in Jo'burg to shop for Thai and Japanese ingredients. Two things to know before you rush there is that transactions are strictly cash-based, and English isn't widely spoken. Politeness, sign language, and smiles will generally get you what you need.
There are restaurants along the length of Derrick Avenue, but probably the best known in new Chinatown, as far as western fans of Chinese food are concerned, is the Fisherman's Plate.
Argued by many to be the best seafood joint in the city (the crab dishes are legend), this hole-in-the-wall eatery has 1 other major attraction: a credit card machine.
Derrick Avenue has from Manchurian to Szechuan and Shanghainese to Fujian cuisine. If it's your first time to new Chinatown, spare half a day and wander its length at leisure. Here though, are couple of shops not to miss:
Thai Supermarket – fresh Thai basil, green papayas, ready-made curry pastes, sauces, noodles, and on Saturday morning's only, authentic Thai street food, sold in-store.
(44 Derrick Ave)
Zhong Quiao Supermarket – Japanese groceries galore, sold by their very knowledgeable Zimbabwean shop assistant, Zanele.
(34 Derrick Ave, +27 (0)615 4679)
Delicious Casserole Foods – no English menu means eating here's a lucky dip. Make sure to peek into the huge earthenware pot where the casseroles are cooked.
(32 Derrick Ave)
Sun Fat – yummy Cantonese roast duck and pork.
Lionel Street and Derrick Avenue intersections – open-air vegetable sellers and fisheries.
Sai Thai – an excellent Thai restaurant at the northern end of Derrick Ave.
Mei Sin Pastry – Chinese confectionary and popular breakfast café.
(13D Derrick Ave)