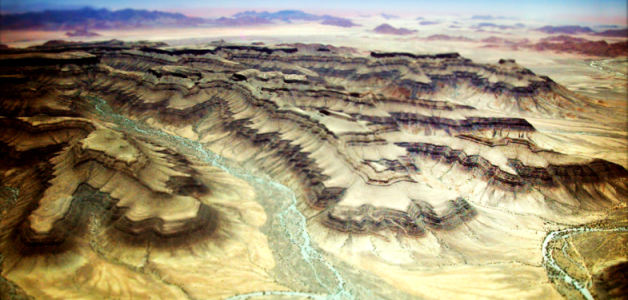 Namibia is a vast, empty and desolate land – something you would think would put many off travelling there. In fact the desolation is both it's appeal and it's illusion – the emptiness that is the desert is also it's allure, the extreme climate is what's shaped its beauty, and its popular image of a dry wasteland harbours untouched savanna. But, being so vast and diverse, one needs to pick a part of the country to visit before embarking on a journey, here are some pointers:
The South for spectacular canyons and top seafood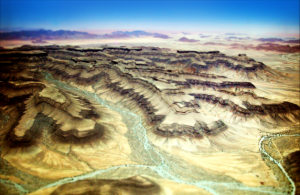 If you fly into Windhoek, one option open to you is to take the long drive south (alternatively make a road trip out of it and drive from South Africa) – here you'll find the world's second largest canyon, the Fish River Canyon, the quivertree forests, Orange River and a myriad of striking rock formations. Look out for the wild horses of the Namib on the road from Keetmanshoop to Luderitz where you'll find excellent local crayfish and oysters in season. Take a side-trip out into the restricted diamond-rich areas to see the ghost towns like Kolmanskuppe, undoubtedly moving!
The central plateau and coast for beach, dunes and Namibia's playground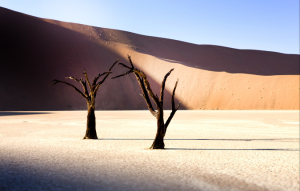 This is the most accessible part of Namibia if you fly in to Windhoek or Walvis Bay and is home to some of the country's most famous natural sites. Alluring geological formations await you like the bald rock peaks of Spitzkoppe, the gaping Sesriem canyon and most famously for it's many appearences in movies, the salt pan Sussusvlei with its giant red dunes and striking dead trees. A short drive from Windhoek (and even shorter from Walvis Bay) is the resort town of Swakopmund, famous for its well preserved German colonial architecture as well as its many activities like sandboarding, parasailing and even golf on one of the only all-grass desert golf courses in the world.
The North/Northeast for game viewing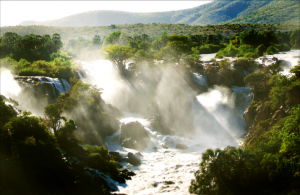 Game viewing doesn't get better than at the world famous Etosha National Park which is centred around the enormous seasonal pan by the same name. But where Namibia truly gets surprising is a little further East where you'll find one of the wettest areas in all of Southern Africa, a stark contrast to the rest of the country. Here rivers wind over the well-watered plains and begin fanning out to form the world's largest inland delta – the Okavango attracting vast herds of game. Remember with all this water, Malaria precautions are a must and travelling here will be for the adventurous, since the drive is long and a 4×4 is recommended; some overland tours also venture through this region.
Namibia is truly breathtakingly beautiful and well-worth the visit, if I haven't managed to convince you, check out the Namibia Tourism board's fantastic site from which I got these fantastic pictures!