Any visit to Canada's West Coast, in the province of British Columbia, is never complete without a coastal experience.
The most popular route taken by tourists and locals alike is the BC Ferry crossing from Vancouver, the region's largest city, to Victoria, the capital city, located a brief 90 minute ferry ride away. Victoria is hugely popular with tourists, a walkable city with much to offer.
Ferries in the summer leave daily, on the hour from 7am to 9pm. The ferry departs from the Tsawwassen terminal, sailing across the Strait of Juan de Fuca, a large body of water that links Canada and the U.S., for the first 40 minutes of the voyage, before entering a somewhat narrow passage called Active Pass.
Active Pass is wedged between Galiano and Mayne Islands, two of the region's Gulf Islands. The ferry then exits the pass, traversing between the other Southern Gulf Islands before arriving at its destination. (the Gulf Islands are well worth exploring on a trip to the region, and ferries service five of those islands)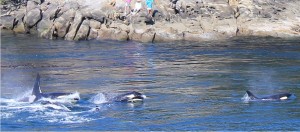 On a lucky day, passengers will be treated to one of the regions most dramatic and unpredictable natural sightings – pods of killer whales! During travels last month, I had the good fortune of being on such a ferry sailing. The ferry captain came over the loudspeaker, announcing that in a few moments time, the ferry would be approaching a pod of killer whales on the starboard (right) side of the vessel. Having grown up in the region, I'm aware that such sightings do occur from time to time, but they are not a daily occurrence. The rarity of seeing these creatures excites me every time.
Killer whales are a huge attraction in the region, but not everyone is fortunate enough to see them on a ferry sailing. For those who don't, there are various expedition companies located in Victoria that offer Whale Tours to tourists.
Canada's West Coast has much to offer visitors; an area of remarkable natural beauty awaits your next visit.
[boilerplate bytitle="Standard"]