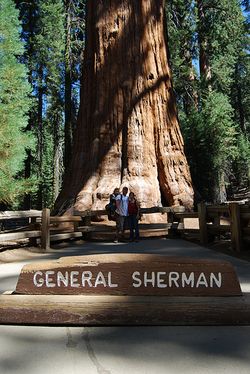 (photo courtesy of roebot)
A friend and I were hiking this summer, in the middle of a dense forest near Seattle, when I asked him "Do you know what the largest living thing on the planet is?"   My friend replied that it was General Sherman.

General Sherman???….. I didn't mean a person, I meant a living thing, like an animal or a tree.  I was confused. 
General Sherman, I was then told, is the name given to the largest tree in the world, a Giant Sequoia that is nearly 100 metres tall, with a girth at the ground of more than 30 metres. (there is a taller tree located elsewhere in California, but it's not as large when you consider total volume) 
It can be found in the Giant Forest, which is located within the Sequoia National Park in Sierra Nevada, California. In fact, most of the world's tallest trees can be located in this region of California. 
The tree is estimated to be between 2,300-2,700 years old. Remarkable, it was actually identified as the world's largest tree back in the 1930's. The world's 3rd and 4th largest trees can also be found within the same Giant Forest. One is named President, and the other Lincoln.   
The Giant Sequoia tree is native to this region of California, but they can also be found throughout the world. They are estimated to grow more than 10,000 cones at a time. 
* The Great Barrier Reef in Australia is of course much bigger than General Sherman. But above water, I believe General Sherman may be the biggest.