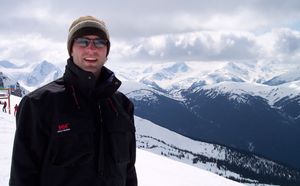 If you have tuned into the Winter Olympi.jpgcs at all this week, you will notice that many of the events are taking place at Whistler.
This can be somewhat confusing, as Whistler is the name of both a mountain, and a town, both of which are located roughly 120kms north of Vancouver.
Whistler (the town) is an idyllic ski resort community, home of roughly 10,000 permanent residents, and probably as many seasonal residents. You can access Whistler from Vancouver by car, bus, or train.
The town is a nature-lovers paradise, and is known for its friendly local people, laid back outdoor lifestyle, and dramatic nature and wildlife. Whistler is somewhat unique in that you can ski and golf in the same day during several months of the year.
The Whistler Village is the centre of activity in the town, a pedestrian village filled with restaurants, shops, bars, nightlife, and tons of action. The town is also known for its local black bear population – they are plentiful, and if you visit during the warmer months you are pretty much guaranteed to see them.
Whistler (the town) is also known internationally as the home of the Whistler-Blackcomb ski resort, the largest ski resort in North America. The ski resort is comprised of two mountains – Whistler (the mountain), and Blackcomb.  The two mountains combine to create more than 8,000 acres of ski area – so much in fact that 90% of the mountain is open to skiers and snowboarders during the Olympi.jpgcs.
Whistler and Blackcomb mountains are where many of the Olympi.jpgc events are taking place, including the cross country skiing, biathalon, the downhill skiing events.
My favorite way to end a day in Whistler……….. ski or snowboard all day with friends, and as the sun is setting, race my friends from the peak of the mountain to the Longhorn Saloon in the village. (It takes us about an hour) Last one to arrive has to buy the first beer.