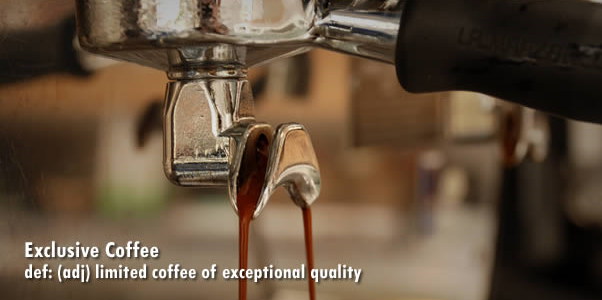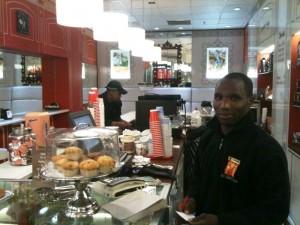 Jozi LOVES coffee! iKhofi ( that's Zulu for coffee) drinkers in eGoli (and that's Zulu for in-Johannesburg) take their brew seriously.
While the rest of us settle for instant out of a jar that tastes like hot water with brown crayon dipped in it (okay, not all instant coffee's insipid) coffee aficionado's in Jozi's java jungle are hunting down Johannesburg's best coffee shops in search of  their next gourmet caffeine fix.
Bean There in Milpark is a shrine to all things coffee.  Their Fair Trade, organic beans are single origin, sourced directly from small-scale African producers, chosen to reflect the terrior of the region, and traditionally hand-roasted in small batches. A Zen-den for coffee purists, ask for Olga's Peaberry Reserve, a rare, micro-lot coffee grown in Kenya.
Somewhere to recommend when friends or colleagues ask, 'Where's a good coffee shop on Jo'burg?" is Hausbrandt in über-trendy Melrose Arch. This cosy boudoir-style shop, is as near as Jozi gets to an Austrian coffee house. What Hausbrandt lacks in Sacher Torte, it makes up for with superbly brewed and presented single origin Italian coffees and gelato made on the premises.
Super Sconto supermarket and restaurant in Orange Grove is an authentic Italian coffee shop in Jo'burg. A word of warning to snooty coffee know-it-all's: Franco Pisapia has been brewing espressos since before anyone knew the word outside of Italy, so to quote a well-worn Italian cliché 'Shaddup you face', sit down, sip your caffé, and enjoy the busy, sociable vibe.
169-171 Louis Botha Avenue, Orange Grove, +27 (0)11 728 7561
My vote for Jo'burg's best take-out coffee, goes to Vida e Caffé, though caffeine-guzzling friends on the go swear by Wild Bean Café. Modelled on European street café's, Vida works because the service is always professional, friendly, and they make excellent 100% Arabica bean espressos. The Portuguese menu can be hard going first thing in the morning, but with your first slurp of Café Mocha (espresso, Lindt chocolate and hot milk) on an icy Jo'burg morning, all is forgiven.
For an out of the ordinary coffee experience, head for Abysinia, an quaint Ethiopian restaurant in Kensington. On request, they'll conduct a traditional coffee or Bunna ceremony. Chef Amsale roasts the beans in front of you, and then she grinds them on the spot, before serving you thimble-full's of strong, black aromatic coffee from the Jebena pot. Lanngerman Drive, off Queens Steet, Kensington, +27 (0)72 918 8824
On the outskirts of Jo'burg, The Green Bean is a country boutique for coffee connoisseurs. They'll blend and roast high-altitude, single origin coffees from Malawi, Rwanda Zambia, and Ethiopia to your taste while you enjoy stylish al fresco dining at Casalinga Ristorante Italiano next-door.
Read the ilovecoffee blog to find other good coffee shops in Jo'burg. Have you recently discovered a best-kept Jozi coffee secret? Share it here.
[boilerplate bytitle="Standard"]