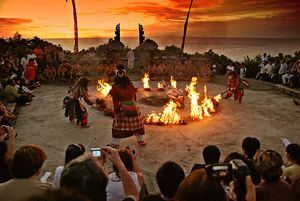 Why do we often hear people speak of travelling to Bali, Indonesia? Why do they always have a great time? Why haven't I been yet?  
Each of us must surely know someone who has been to Bali. And the reason we hear so many people speak highly of Bali, is that it is one of those tourist destinations that really does have it all. 
It's such a remarkable tourist destination in fact, that approximately 80% of visitors to Indonesia each year visit Bali alone. Hard to believe that Bali is just one one of 17,000 islands in the Indonesian archipelago.  
Good weather, beautiful beaches, world-class scuba diving and surfing, historical monuments, vast landscapes, a rich and vibrant culture, music and dancing and friendly people – what more could you ask for? Bali really is one of those global destinations that has it all! 
One unique cultural aspect of Bali is the island's Day of Absolute Silence, Nyepi.jpg. This takes place once per year – March 16 in 2010 - where the Balinese spend the entire day in silence, in order to fool all evil spi.jpgrits into believing no person is actually on Bali. Success means the evil spi.jpgrits will go elsewhere, leaving Bali alone for another year.  This is but one example of the rich local culture that exists. 
Bali is divided into six regions, the South, Central, West, North, East, and the Southeaster Islands, each area unique, with different tourist offerings. The Central region is the cultural heartland, in the West you find the West Bali National Park, and in the east an active volcano. The South is the most popular part of the island. 
If you are looking to get away this spring, to a beautiful destination that has it all, maybe Bali is your place. 
(photo of kechak dance at Uluwatu, Bali, courtesy of didiz)