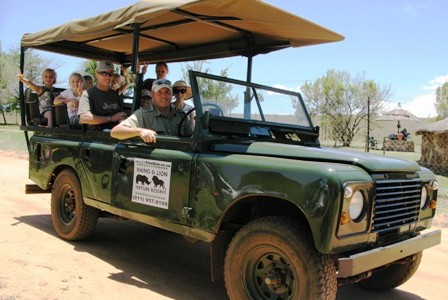 Catering to Joburg's 'want it all, and want it now' attitude, the Rhino & Lion park delivers a reasonably authentic safari experience, just over 1 hours drive northwest of the city.
The park's setting in the Kromdraai hills is stunning.  The range of plains game is impressive and includes species like eland and gemsbuck that are not often seen in the Gauteng province.
At the Rhino and Lion safari park, you'll be able to see 4 of the Big 5: lion, buffalo, rhino, and leopard; exotics like tigers, white lions and jaguars, and some rare and endangered species like wild dog, and sable and roan antelope.
To tick elephants off your Big 5 list, nip across the valley to the Elephant Sanctuary close to Hartebeespoort. While you're there, check out Bush Babies Monkey Sanctuary that ensures a happy ending for rescued and orphaned pet monkeys.
The Rhino & Lion park is not 'natural' in the sense that predators aren't 100% free to roam and hunt. Lions, cheetahs, and wild dogs are segregated and fed; but their sizeable, savannah-like enclosures are far closer to a safari experience than visiting a zoo.
If you've not been on safari before, or have small kids, the Rhino and Lion Nature Reserve is not a bad starting point, and there's a lot to do here besides look at animals.
A restaurant, picnic areas with braai (barbeque) facilities, a swimming pool, and Gauteng's most impressive show cave, the Wonder Cave, are all on site.
The reserve makes a concerted effort to cater to every type of safari-goer.  Those who prefer to self-drive can go game spotting in the 1200-hectare reserve, and stay overnight in the rustic chalets for a 360˚ wildlife experience. Alternately, you can board an open-air safari vehicle and go on a guided game drive with a qualified ranger.
Little ones often find game viewing hard going (all that sitting still, keeping quiet, and then you still don't see any animals!) so the Rhino & Lion park has an animal crèche, the highlight of which is the opportunity to play with baby lion cubs.
It's not a cheap thrill, costing R30 per person for a 5 minute cuddle, but 'kids' aged 3 to 90 can't wait to get their paws on these adorable, er, …kitties.
The Rhino and Lion park may not be everyone's dream safari experience, and purists will likely pooh-pooh it as too commercial, but it's accessible, affordable, and you're likely to see more species here than you would in a 'proper' game reserve like the Pilanesberg or the Kruger National Park.
P.S. Do take the advisory for driving in the lion enclosure seriously. The cats here have developed a particular affinity for car bumpers and wheel covers.
A tough one to explain to your insurance or car rental company, not to mention the indigestion it gives the cats…