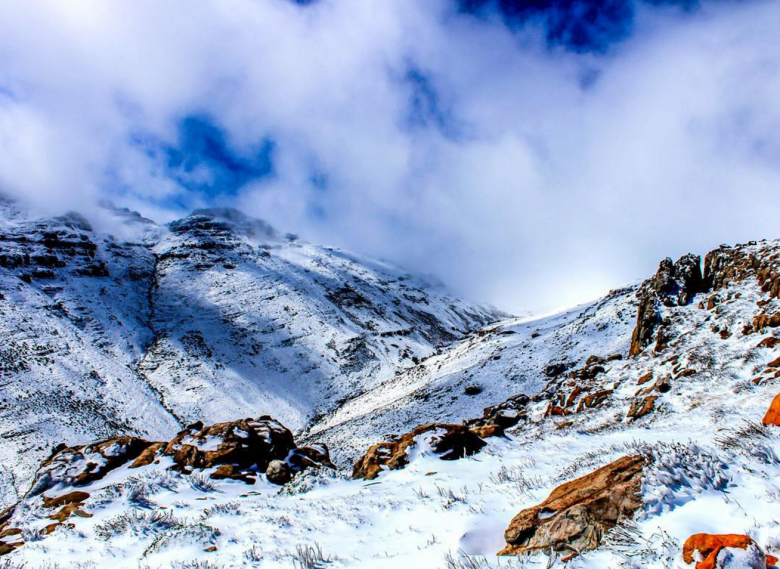 South African snowfall is unpredictable, sometimes it even snows in the Johannesburg CBD, in December 1970 it snowed mid-summer in Sutherland! There was nothing more exciting as a child than waking up to the news that snow had fallen in the Drakensberg. After a hasty breakfast we'd set out on a snow hunt dressed in three layers of jerseys, hoping that there'd be enough for a proper snowman or a legendary snowball match. Only in South Africa can you go for a sunny sea swim in Durban and 2 and a half hours later find yourself freezing your fingers off in the Drakensberg foothills.
Londoners may grow weary of this slushy weather phenomenon, however the rarity of snow in South Africa makes it worth the drive and the wonky snowman built on the side of the road. The Snow Report reports snow in Matroosberg and elevated points in the Western Cape today and tomorrow, and this morning saw a surprise sprinkling of snow in Sutherland. Travelstart brings you the low down on where to go and stay in striking distance of this icy phenomenon this winter.
Header image courtesy of lukemaximobell via Instagram
Matroosberg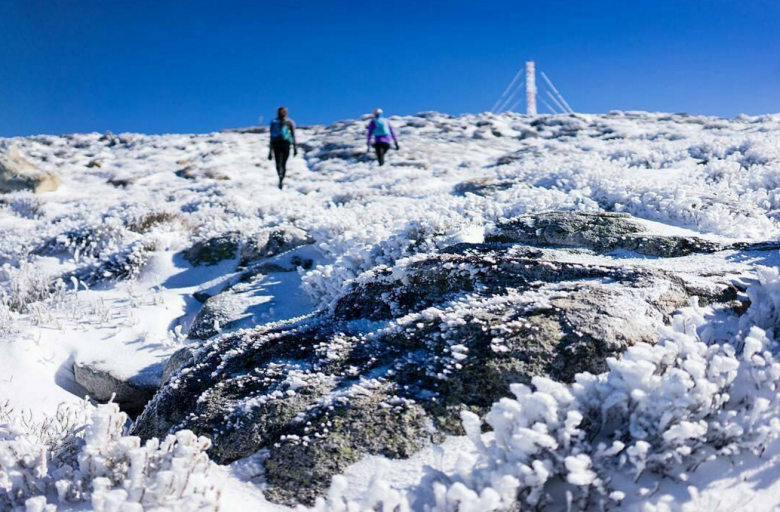 Courtesy of runningthecape via Instagram
The Matroosberg mountain is the second highest peak in the Western Cape after the Seweweekspoort Peak in the Swartberg Mountain Range. There is a 4×4 route for off-road enthusiasts. You don't need a 4×4 to reach the Matroosberg ski hut which sleeps up to 20 people at R110 a person and R50 for kids aged 3 to 13. There's no electricity but 2 hot showers waiting for you after a day of hiking or adventuring on the 4×4 track in search of snow.
Another great spot is the secluded 100 year old Goatherds house which sleeps 6. You'll find serenity here as it's electricity free. Hot shower.
R1950 per weekend
Per night booking: R1000
Contact Matroosberg Private Nature Reserve during office hours on: 023 312 2282.
There is a day visitors fee of R50 and R30 for children under the age of 13 and R20 for dogs.
Sani Pass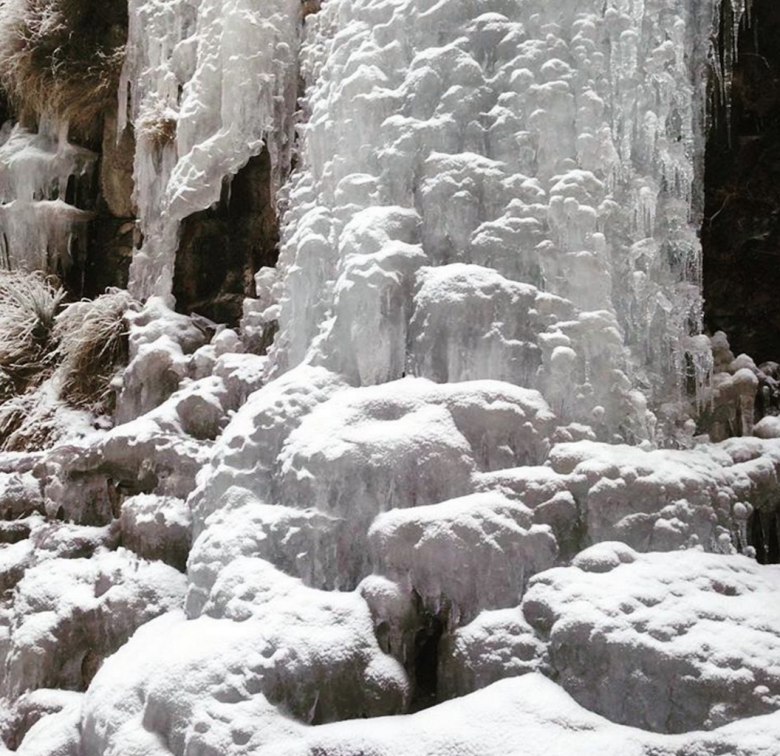 Courtesy of fris5 via Instagram
If you're going to see snow this winter it will most likely be on Sani Pass. It starts at 1544m and rises 1332 vertigo-inducing meters to summit at 2876m! Throughout winter the streams going up this steep pass are frozen in fascinating shapes, once at the top you can warm yourself up with a drink at the Highest Pub in Africa. Take a 4×4 or go with Roof of Africa Tours (don't forget your passport).
Roof of Africa Tours: 073 696 6782
Enjoy warm hospitality at Sani Mountain lodge. From R985 per person sharing, dinner and breakfast included.
R225 for a bed in the backpackers dorm.
Call 078 634 7496 to make a booking.
Underberg & Himeville
Book a weekend away in charming farming town Underberg and if you're lucky you might wake up to several centimeters of powder outside. If not then it's onwards and upwards to nearby Sani Pass (see above).
Stop in at the Underberg Inn for a pint and for a delicious country dinner head to the Old Hatchery.
Stay at Curragh Lake self-catering cottages. Contact Kate on 079 573 2247 to make a booking.
Lesotho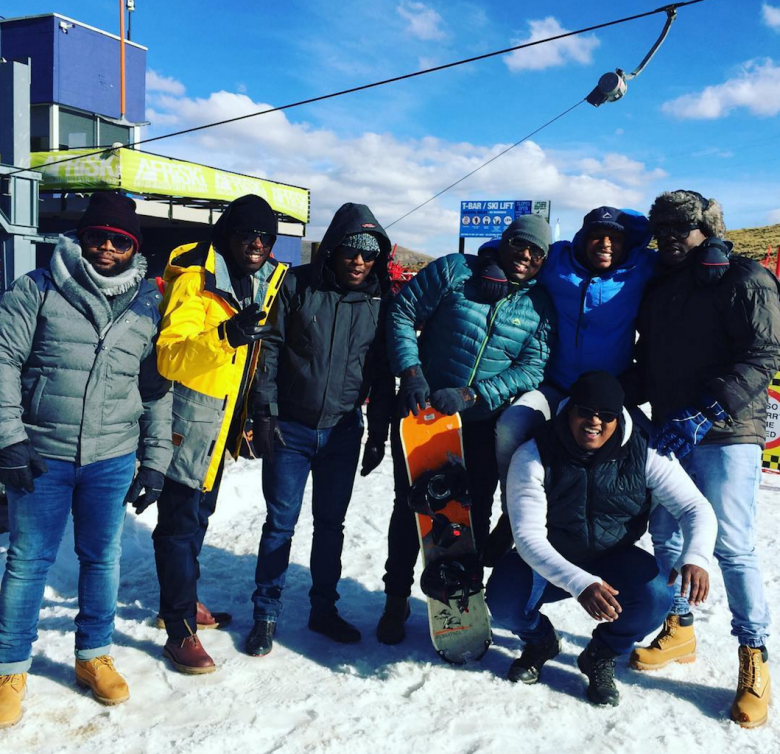 Courtesy of mkuselimadubela via Instagram
This mountain kingdom is prime snow hunting territory. Ski enthusiasts will have a fantastic time on the slopes at Afriski. Budget backpacking accommodation ranges from R135 to R290 a night in the brand new rooms.
You can rent a luxury mountain chalet which sleeps 6 to 10 people for R1000 per person a night, and there is a great range of mid-range accommodation too.
Call: 0861 237 4754 to make a booking.
Lesotho is home to Thabana Ntlenyana meaning "Beautiful little mountain" in Sesotho, which is the highest mountain in southern Africa, in winter there is practically no possibility of not seeing snow in the mountains of Lesotho.
Good to know before you go:
South Africans require a passport to enter Lesotho.
The 21 day grace period for an expired drivers license does not apply in Lesotho.
Carry the requisite two red warning triangles in your vehicle.
Traversing the Maluti Mountains on horseback is a definite one for the bucket list.
Hogsback
Courtesy of xylonvaneyck via Instagram
Local legend has it that Tolkein's Middle Earth is the Amathole Mountains. Apocryphal or not the ethereal Hogsback village of artists and bohemians is occasionally blanketed in a layer of snow. Don't miss the open air bath tub with a view at "Away with the Fairies". Call: (045) 962 1031 to make a booking. Either stay in a dorm room or book the two bedroom Hobbit cottage for R650 a night.
Sutherland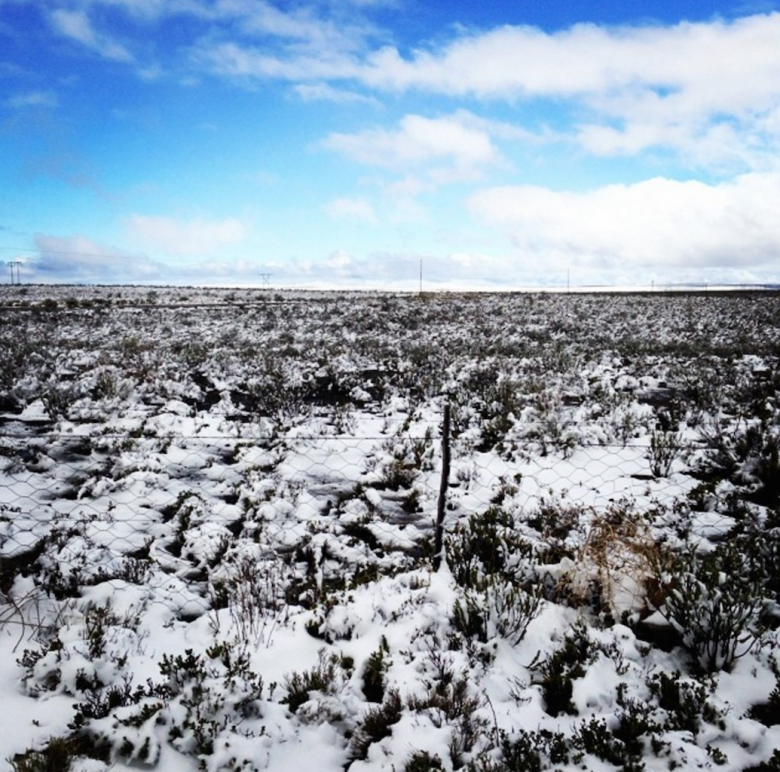 Courtesy of scottydk2022 via Instagram
Reportedly the coldest place in South Africa it's crazy that one of their heaviest snow falls took place in mid-summer on the 6 December 1970. There was light snow fall today so head to Sutherland this weekend for a strong dose of winter.
Stay at Blesfontein for their star show and warm hospitality.
Call: 083 444 5810
Of course snow means snowball fights and hot chocolate for some, and for others an icy and harsh reality, consider donating blankets and other useful items to communities affected by extreme weather.
Tips for planning your trip
Have a look at excellent resource "the Snow Report" early in the week, if you're lucky you might secure a last-minute booking for the weekend.