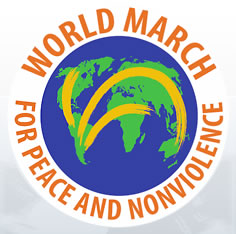 The World March for Peace and Non Violence has already begun…
It
all started in New Zealand, on 2 October 2009 and is making it's way
across the globe. This particular date was chosen as it marks the
anniversary of Mahatma Gandhi's birth and was declared the
"International Day of  Non-Violence" by the United Nations in 2007.
The March will continue for 90 days through all climates and seasons until it reaches the Andes
Mountains (Punta de Vacas, Aconcagua, Argentina) on January 2, 2010.

Numerous respected
international personalities have endorsed this World March, including Archbishop Desmond Tutu, the
Dalai Lama, Penelope Cruz, Bryan Adams, Yoko Ono, Philip
Glass and Art Garfunkel, to name a few.
Here
in Cape Town, the South African Peace Alliance will be hosting our part
in this global March. Pack a pi.jpgcnic and join us for a peaceful walk in
nature this Saturday, 7 November 2009. The starting point is at the Kloof Nek parking lot. 
We will be walking to Deer Park,
along the Jeep Track, where all may enjoy their pi.jpgcnic lunch during the Public Peace Forum.
Please note: SANParks has requested that walkers park at Kloof Nek parking lot – no parking available at Deer Park.
All
are most welcome to join in and be part of this momentous occasion, so
please bring along your families and friends of all ages. (Suitable for
all levels of fitness)
Be sure to register at http://ctpeacemarch.homestead.com/ by this Wednesday, 5 November 2009.
When: Saturday, 7 November 2009
Where: Kloof Nek Parking Lot (meeting point) – Jeep Track – Deer Park (and back)
Registration: 11:00 – 11:30
Walk starts: 11:30
Walk ends: 15:00
What to bring: yourself, friends, family, a pi.jpgcnic lunch and a peaceful heart
Exciting times! Looking forward to seeing you all there…
In Love and Peace