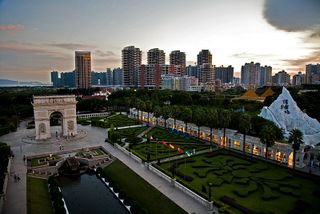 Many people might wrongfully believe that Dubai is the world's fastest growing city. While it may have been at one time, today that honor must surely go to Shenzhen in China.
Located in south-eastern China in the Guangdong province, just north of Hong Kong, Shenzhen is a must-see city if you are planning on visiting China.
In 1980, the city became China's first Special Economic Zone, with liberal economic policies leading to unprecedented growth of the city. (Today there are five such zones in China) The local economy has experienced double-digit growth throughout the last decade.
What was once a fishing village looks nothing like its former self, with an urban population of more than 4 million and the greater city's reaching 8.6 million. Its home to the Shenzhen Stock Exchange, countless skyscrapers, and many of the world's tallest buildings are either open today or under construction in the city.
From a traveller's perspective, it's a city that looks like no other on earth, so a visit is highly interesting from that perspective. While it may be best known for its commerce and exceptional shoppi.jpgng, the city is also home to countless tourist attractions – the Window of the World theme park (photographed), the Chinese Folk Culture Village, the Happy Valley area, and Splendid China, a fascinating miniature park reflecting much of China's history and culture. There are also various parks in the city that offer free admission to visitors.
I briefly visit Shenzhen in April 2005, and the scale of the city blew me away – it's a place like no other.